Don't let a little mystery keep you from going to Myakka River State Park and  taking a Myakka Wildlife Airboat Tour aboard one of the world's largest covered airboats.
The mystery? Prior to the 1850's English maps called the river the Asternal River. Then a Seminole Indian told a surveyor the river's name was "Myakka". The name was changed. But no one can figure out how to translate the word "Myakka". Who knows what it means?
This mystery hardly matters to the steady stream of people eager to take a tram or airboat tour, or both. The first task: search for a parking place near the Tram & Airboat Ticket Booth inside Myakka River State Park near Sarasota.
Airboat Tours at Myakka River State Park fill up fast
Winter airboat tour schedule (Dec. 16-May 3) has boats departing at 10 a.m. 11:30 a.m., 1 p.m. and 2:30 p.m. Arrive 30 minutes ahead of time to, hopefully, be assured of a seat. Ticket sales stop five minutes before departure. Cost is $14 plus tax for an adult $7 plus tax for children ages 6-12. Children under the age of five admitted free in adult's lap.
In the summer months, airboat rides leave at 10 a.m., 11:30 a.m. and 1 p.m. Hurricane season is June 1 through Nov. 30 so it is always a good idea to call ahead and see if the weather makes this trip a "go" or "no go".  Call 941-365-0100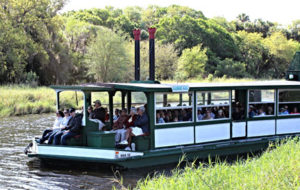 Be advised the ticket booth is three miles inside the park entrance. After paying the park fee it might seem going three miles on Park Drive will go by quickly. Not so, especially on weekends. A slow speed limit and several congested areas – the Canopy Walkway area and a bridge with sightseers and fishermen on both sides – means reduced driving.
Toss in bicycles on the road and walkers along the sides – you get the message – start out early to arrive on time for a tour.
The two airboats are named "Myakka Maiden" and "Gator Gal." Ours on a recent Saturday morning was "Gator Gal."
Myakka Wildlife Airboat Ride surprisingly quiet
I have to confess to being surprised they didn't hand out earmuffs or earplugs. My only previous airboat ride was in the Everglades aboard a much smaller, uncovered boat with a huge motor on the back that roared at top volume. As we skimmed over the water flocks of birds rose up out of the grass in protest. Alligators slithered down the banks and disappeared into the mud. Truly we were alien invaders.
Not so on this airboat. It is positively quiet. You can hear the guide/captain speaking. No earmuffs needed. The airboat journey goes across the Upper Myakka Lake to see a whole lot of alligators along the shore and then comes back again. Takes about an hour.
The scenery is postcard perfect and the narration outstanding (suggestion: do bring money to give the guide a tip at the end, he earns it).
See Alligators on Airboat Tour inside Myakka River State Park
Our guide smoothly says this is a shallow lake, sixteen inches to three feet deep at most. Why we could get out and walk back to shore. Some look over the side at the brown water with relief. If the boat tips over we're fine, right?
But then he questions if you'd want to get into the water with anywhere from 500 to 1000 alligators who live here. Everyone sits up a little straighter. The boat starts looking pretty good and solid.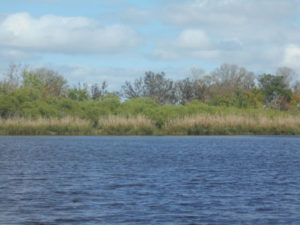 I learned more about alligators in one hour than I've ever known. Yes, we saw a lot of them both swimming and sunning along the shore. That plus who knew there was a wild hog problem – and a trapper paid to remove pigs, just to keep the population down?
Turns out centuries ago Spanish explorers arrived in ships that had hogs in the hold. They let them go and then did roundups twice a year. Needless to say, some pigs just kept on moving on and now wild hogs are part of the Florida landscape.
Combine being on the water with blue skies, puffy white clouds, balmy breeze, and a sweeping wild Florida shoreline – all that plus great story telling adds up to an awesome airboat tour.
And if you want to know more about walks in the park, here is a review of the park's famous Canopy Walk by Randy Eady https://www.afar.com/places/myakka-river-state-park-sarasota
More Airboat Tours
Two I've taken that were outstanding:
Near DeLand: The Fountain of Youth Eco/History boat tour, leaves from inside De Leon Springs State Park, four times a day and goes through Lake Woodruff National Wildlife Refuge.
Near Ocala: The glass-bottomed boat tour on the Silver River leaves inside Silver Springs State Park. Use the main entrance on Silver Springs Boulevard.
New Facebook Page
I invite you to "LIKE" my new Facebook page – Labyrinth of the week
Walk with me as I travel around Florida walking labyrinths for an upcoming book – and let's share labyrinth stories!
More to Explore
Mount Up – Horseback Riding in Florida
Making Mosaics in Barcelona, Spain