Jack Kerouac slept here.
Believe it! For a short while, during a piece of 1957-58 Jack Kerouac and his mother lived in a two-room apartment at the back of a bungalow in College Park, a laidback neighborhood in northwest Orlando.
His novel On the Road was recently published and gaining fame. While in College Park he typed up the original manuscript to the sequel Dharma Bums.
Who knew? The world might have continued on blithely unaware. But freelance writer and reporter with the Orlando area NBC Bob Kealing heard the "Jack Kerouac lived here" rumors and he went looking. Through John Sampas, Jack Kerouac's brother in law, Kealing found the 1926 bungalow at 1418 ½ Clouser Avenue, College Park. It was badly in need of repair.
After an essay by Kealing in the Orlando Sentinel in 1997 local people banded together to buy the Jack Kerouac bungalow, fix it up and make this historical place a haven for writers. They didn't raise enough money but after a story about the project in USA Today, Jeffery Cole, Chairman and President of Cole National, and a Kerouac fan, stepped up to supply the remaining funds. Kealing became co-founder of the project.
Jack Kerouac lived here, aspiring writers can too
Today the Kerouac Project supports writers through awarding four residencies a year. They are taking applications now for 2017-2018. To my surprise, you don't have to write like Kerouac to apply. Genres accepted include poetry, play, screenplay, fiction/short story and nonfiction.
So the house is not open to visitors, since writers are doing their residencies, but you can drive by and if you are a serious writer, apply to live here for a short time while you write.
One twist on their Web site – if you shop on Amazon through the Kerouac Web site then a portion of your purchase goes back to support the Kerouac Project.
But I hear you say you want to walk through a writer's home, feel the vibes, and see the table where they wrote daily.
Have I got a place for you – Marjorie Kinnan Rawlings Historic State Park in Cross Creek southwest of Gainesville.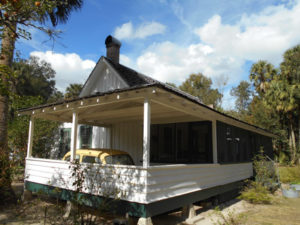 At a round table on the front porch she sipped morning coffee, looked out over the orange grove that provided income and, when properly prepped with caffine, set to work writing on a small typewriter. Here she penned The Yearling her Pulitzer prize-winning novel and many other stories.
A ranger in period costume gives house tours on Thursday, Friday, Saturday and Sunday from October through July. Tour times are 10 a.m., 11 a.m., 1 p.m., 2 p.m. 3p.m. and 4 p.m.
Be sure to pick up free brochures in the parking area (a $3 fee to park). Take the self-guided walk around the house and grounds.
Just inside her garden gate is a sign with a quote from Rawlings (1896-1953) about how coming to this place was in fact coming home.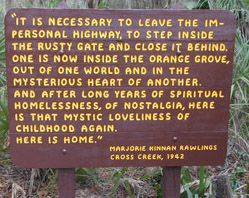 Next to the park are a picnic area and a boat ramp providing access to Orange Lake.
If you've never eaten alligator meat, now is your chance – it is on the menu at the Yearling restaurant just down the road from the park.
But if alligator doesn't do it for you the menu also lists quail and cooter along with frog legs and venison. Of course a grouper sandwich is available too. That is required Florida fare even inland.
Hours are noon to 8 p.m. on Thursday, noon to 9 p.m. on Friday and Saturday then noon to 8 p.m. Sundays. Note these hours if you want to plan a combo visit to both the Rawlings Park and Yearling restaurant.
Writers do like their special places to write – that niche where creative juices flow – containing a certain table, chair, view or perhaps just privacy, all with the right ambiance.
Visit the home Hemingway lived in for ten years
The Ernest Hemingway Home & Museum in Key West provides an abundance of ambiance. Hemingway lived here for ten years. He wrote in an upstairs loft of a small cottage next to the big house. His typewriter (larger than Marjorie's) is still on the table.
Sometimes tours rush you through his workspace and that is sad. This is a special place to sit and absorb the vibes. Instead his work area is gated off and only a walk through allowed.
A 30-minute tour of the house and grounds is included in admission price. Hours are 9 a.m. to 5 p.m. 365 days a year. Heads up – you should know they only take cash. Admission is $14 for adults, $6 for children ages 6-12.
Don't like cats? Then take a pass. Any visit to Hemingway's house is dominated by the fact that descendants of his six-toed cats (his first was a gift from a ship's captain) still live here. Lots of cats – 40-50 cats with their own Web page and they are everywhere. I do like cats and find that after visiting most of my photos are well, of cats. I am not alone.
Zora Neale Hurston (1891-1960) was the premier female voice for the Harlem Renaissance era – a storyteller, author, anthropologist, and more. She grew up in Eatonville. The town has a Hurston festival the last week in January.
Hurston lived and spent her final days in Fort Pierce. The city has a Zora Neale Hurston Dust Tracks Heritage Trail, a do it yourself tour, with markers and kiosks, of her life and times here.
So there you have it – Jack Kerouac, Ernest Hemingway, Marjorie Kinnan Rawlings, Zora Neale Hurston -a short list of famous writers and where they lived in Florida. Be sure to take a journal with you when you visit and write down your thoughts. It could be the start of a great American novel.
More to Explore
Making mosaics in Barcelona, Spain
Florida Lighthouses Welcome Visitors