When I go to book presentations and signings for "50 Great Walks in Florida" the most asked question is: "What is your favorite walk?"
Each one is different. I love them all. As proof, I'd do them all again in a heartbeat. I did 80 walks and the 50 great ones made the cut.
But I always do ask the audience if they have children and grandchildren. Do you? If the answer is "yes" then open your 50 Great Walks to Chapter 30: Guided Nighttime Turtle Walk, Archie Carr National Wildlife Refuge, Vero Beach.
A nighttime turtle walk will make memories for grandchildren
June and July are nesting season for loggerhead turtles. Starting May 15 at 8 a.m. Sebastian Inlet State Park will begin taking reservations for June walks. Be sitting by the phone. These spots go fast. July's reservations will be taken starting June 15 at 8 a.m. The number is 772-388-2750.
Another choice: Sea World @ Vero Beach. They too start taking reservations on May 15 at 8 a.m. for June. The phone number is the same 772-388-2750.
Why this walk? Two reasons: I am often asked "What is there to do in the summer in Florida". Here's an answer. And, while you may or may not see a turtle laying eggs the night you go, if you do it is a once-in-a-lifetime experience. Your evening starts late, after dark, with a movie about turtles then patrols go on the beach looking for nesting loggerheads. If they find one, you all walk down the beach to the site. (My recommendation: do not wear flip-flops).
On our nighttime walk, we went to a turtle laying eggs and stood behind her. The children were asked to come up close, get down on the sand and watch her lay eggs, something turtles have done for millions of years. I stood in the back with the adults and I'm not ashamed to say, I cried. It was beautiful, ancient, moving and solid proof that everything on Mother Earth is connected. What we do matters, like not throwing plastic bags on the beach or in the water. A turtle might eat it (looks like a jellyfish) and die of starvation as the plastic stays in their stomach.
Memorial Day weekend happens in May and the weekend is well displayed at Fort Clinch State Park in Fernandina Beach. They have a World War II Event from 9 a.m. to 5 p.m. on Saturday, May 23 and from 9 a.m. to noon on Sunday May 24. Featured are military displays and memorabilia of the Allies, Axis and Home front.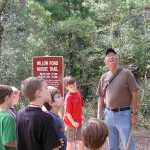 Stay and do the two walks in 50 Great Walks – Ch. 11: A Stroll Through History: The Historic Downtown Fernandina Beach Centre Street Stroll (whew! That's a mouthful) and Ch. 12: Nature's Classroom: Willow Pond Nature Trail, Fort Clinch State Park.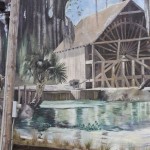 Finish up May in beautiful DeLand (Ch. 25: Painted History Walk).
On Saturday, May 30 there is a nature hike at Bicentennial Youth Park about reading skulls and bones of animals. Gregg Thompson, biologist and naturalist, will share his extensive skull collection. Cool! Call 386-668-5553.
So, now you know my confession – I cry in the face of beauty and it is not just with turtles. Want to see something beautiful? Bok Tower Gardens near Lake Wales redesigned their Web site and it is a thing of beauty, especially the photographs. Take a look at Bok Tower Gardens.

Lucy Beebe Tobias is the author of "50 Great Walks in Florida" and the Authentic Florida Expert for VISIT FLORIDA.
MORE TO EXPLORE
DeLeon Springs boat tour shoes history's wake
Discover Downtown St. Petersburg