The Florida Museum of Natural History in Gainesville wants you to see Florida's natural beauty with fresh eyes. From Feb. 6 through April 25 the Quilters of Alachua County Day Guild have 100 original quilts on display in a juried show. You've never viewed Florida quite like this – beauty captured for all seasons in stitches and fabric.
Then you know, or have heard about, about Butterfly Rainforest attraction, an outdoor exhibit attached to the Museum. Wear bright clothing, especially red, and maybe butterflies will land on your clothes as you walk through their environment.
Florida Museum of Natural History has humongous shark's jaws
Inside the Museum are fossils galore, shark's jaws, water stories, tales of Calusa Indians and you can even walk through time from the Eocene, 65 million years ago, to the Pleistocene when humans arrive 14,000 years ago (just yesterday!).
Why go visit the museum now? Say it with me – It is time for a change! We are in withdrawal from the Winter Olympics – what? No more curling? Plus, we are weary of winter, a cold season that has stayed on in Florida like an overripe house guest without the decency to leave.
Take charge, leave the house, go someplace with the thermostat set at 72 and a little on the wild side. I recommend the Florida Museum of Natural History. Admission is free and it is family friendly, making this museum my kind of place.
Just inside the entrance is a mastodon in the Central Gallery. Huge is an understatement. His tusks are thick, curved and look very fierce. Just his bones are on display but still, I'm very glad he is yesterday's news and not coming soon to my neighborhood. His presence does however set the tone for a walk into the past as you go through the exhibits.
How easy it is to forget there was a Florida before Interstate 75. And what a vibrant, diverse heritage we have. The exhibits are clustered in permanent spaces.
Like sharks teeth? click to see a short video on shark jaws at Florida Museum
Florida Museum of Natural History lets you step into different times and places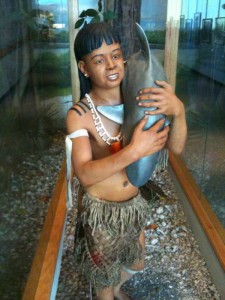 The exhibits put you in a different time and place. Watch water flow through a hardwood hammock and a limestone cave, see shark jaws so big you'll reconsider going swimming, experience Indian village life and finally, my personal favorite, the Hall of Florida Fossils: Evolution of Life and Land. Who knew our history went back 65 million years? I did not. It was, and still is, fascinating news to me.
Museum hours are Monday – Saturday, 10-5 and Sunday 1-5. Address: University of Florida Cultural Plaza, SW 34th Street & Hull Road, Gainesville, phone (352) 846-2000. Closed Thanksgiving & Christmas. Website: http://www.flmnh.ufl.edu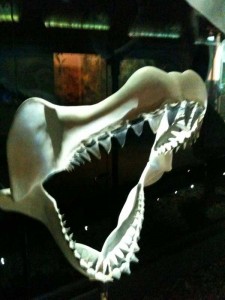 A word about exhibits – the Museum is free. Special temporary exhibits, like the quilt show, charge admission, as does Butterfly Rainforest. The quilt show entitled "Quilting Natural Florida II" costs $6 adults, $5 Florida residents, $4.50 seniors and Florida college students and free for youth 17 and under and museum members.
Butterfly Rainforest prices are $9.50 adults, $8 Florida residents, $7 ages 62 and up, $5 ages 3-12. Last admission is 4:30 p.m.
Every Saturday and Sunday Butterfly Rainforest sells butterfly-friendly plants, 10 plants each week plus an unannounced species. A list of what is on sale is under Plant Sales For example, the weekend of March 13-14 has Blanketflower, Blue eyed grass, Dianthus, Fetterbush, Impatiens, Passionflower, Lavender Lady, Plumbago, red, Sage, tropical, Sunshine Mimosa and Turkey Tangle Fogfruit.
March Museum events:
March 8, 10-11 Discover Hour for ages 2-8
March 20, 10-3 Can you dig it?
March 22, 10-11 Discovery Hour for ages 2-8
March 25, 7-9 p.m. Scott Sampson "Dinosaur Odyssey" Lecture & book signing.
March 27, 11-4 From "Vague" to Vision Quilt Workshop
Finally, I'd be remiss not to mention the big temptation just inside the front door – the Museum gift shop. Take a deep breath. Resist. Do the Museum first. The gift shop will still do its siren call to you on your way out.
Afterwards, should you not want to go home to dead plants and more freezing weather, just go next door to the Harn Museum of Art. Admission is free. Open Tuesday through Friday from 11-5, Saturday 10-5 and Sunday, 1-5. Closed Mondays and state holidays. In the basement is a delightful lunch spot, the Camellia Court Café open from 11-3.
More to Explore
DeLeon Springs Boat Tour shows history's wake
Watch the sunset in Cedar Key with your canine
Art and food go together in Puerto Vallarta