I LOVE FLORIDA STATE PARKS
Yes, I do. Deeply. Passionately.
Just thinking about taking my dogs for walks on dirt trails shaded by tall trees or getting my wading shoes wet climbing in and out kayaks for river trips makes my feet itch.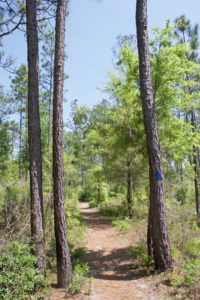 And I confess that occasionally I slip away from work to go tuck my feet under a state park picnic table and Zen out for a while – cell phone turned off, incommunicado.
No one knows where I am but I know exactly where I am – communicating with nature – me listening, nature talking.
Good times.
Florida has 174 award-winning state parks, state trails and historic sites – these are your "go to" places for fun and adventure or those needed Zen moments.
Florida State Parks – Here are Fast Facts
Most Florida state parks are open 8 a.m. to sunset every day of the year. Museums and historic sites may have different hours. Always check the specific Website.
Entrance fees vary with a range of $4 to $10 for a vehicle up to eight people. Every park page on the Florida state parks Website has a "fees" page. Lower fees for bicyclists and walkers.
Individual and family annual passes available.
Volunteers are needed and welcome at Florida state parks. Greet visitors, conduct tours, intern, remove exotic plants or maintain a beach, waterway or trail – your own piece of natural Florida. Go to their "apply now" page and create an ID and login.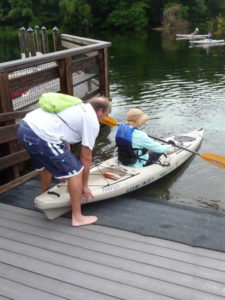 Florida State Parks are family, senior and dog friendly
Sometimes the planned visit to a Florida state park is not quite what happens when you get there.
Like the time photographers, including me, were chosen to be part of a book entitled "24 Hours in the Life of Ocala".
My first assignment was Silver River State Park (since renamed Silver Springs State Park). The time frame for taking photographs: from noon to noon the next day.
At the stroke of noon on the appointed day I'm sitting on a park bench, cameras ready. This trail was well known for wildlife sightings. I could see deer and raccoon prints, even a bear paw mark in the dirt.
All right, a deer or two walking by would be great. Time passed. Nothing. Well, maybe a turkey. Nothing. How about a squirrel? Nothing. Birds? Nothing. I keep lowering my expectations. Nothing.
What is up with this?
Wipeouts do not happen to photographers like Graham McGeorge. Graham shows up in the wilderness, any wilderness, and a bear promptly walks by or a bald eagle strikes a pose. Those photographs end up in National Geographic.
Two hours went by. I'm still sitting on the bench. It is the middle of the day. Any wildlife with any sense is laying low.
Then the biggest dragonfly I have ever seen landed on my hand. Its wings were iridescent, shimmering with purples, turquoises and greens. Instantly I knew its beauty couldn't be captured in a photo. Besides, he was sitting on my camera hand.
I'm convinced the dragonfly came to deliver a message:
"Expectations blind you to what is going on around you.
Be content to be here now."
Then he flew away.
Great advice.
Florida State Parks where wildlife may arrive for a photo opp
Early the next morning as the sun rose in the sky I'm back in the park. This time stopping by the side of the road, getting out of the car, gathering gear, slinging a camera over my shoulder, ready to walk the walk.
And there was the deer on the forest path about 30 feet away. Standing still, looking right at me, backlit from the rising sun that cast a luminous yellow edge all around its body.
Well, wonder of wonders, good morning to you too.
Oh, how I love early morning light. It is the best time of day and yes, I got the photograph.
So you see Florida state parks are places where unexpected, beautiful things can happen.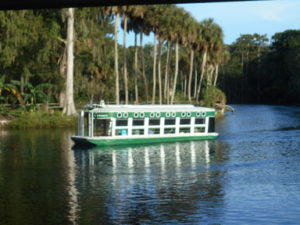 Take the episode of the leaping deer.
The day was clear and cloudless. Two dogs, one human, we are all walking together on a forest path inside the same Silver River state park. We liked coming here because this park is conveniently located just a mile from where we lived.
Tall pine trees gave off a heady fragrance. Without any warning three deer came out of the forest, all three rising up in an arc and coming back down to earth at the same time. Then they run a few more steps and leaped into the air again, connected by invisible threads and knowing just when to jump up in the air at the same time.
We stopped walking. My dogs, without hesitation or a command, sat right down to watch the show. The three deer leap across our path, crossing no more than 20 feet ahead of us, came back to earth, ran a few steps, leaping again and so it continued. The trio leaped and ran their way together across a meadow and then disappeared into the trees.
Lipizzan stallions in the ring could not have put on a better performance.
Then the three deer were gone.
I wanted to clap. The dogs wanted to keep on walking.
We never saw deer leaping again.
Perhaps you will.
Saturday Morning Magazine has an invite for you
Because of your interest in travel, the environment and yet to be discovered adventures, you are invited to be part of a brief survey about Saturday Morning Magazine (SMM):
What SMM topics are your favorites?
Would you read SMM twice a month?
What subjects would you like to see more of in SMM?
Send your answers to:
Thanks!
More to Explore
Paddling and Floating in Florida
Rainbow Springs State Park has Azaleas in the Springtime
Living History Reenactors are time travelers