Garden statues – There are saints and sinners along with some surprise winners sitting in my back garden.
Let's start with saints.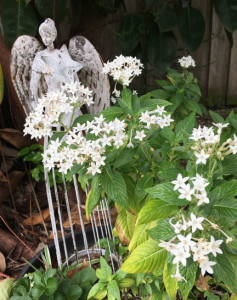 Next to the fish pond stands a metal angel, hands touching in prayer, wings serenely open wide and fanned by a white Penta plant growing in all directions.
Buddha, not a saint but very holy, sits nearby, legs crossed in the best yoga fashion. He looks down on a small bonsai tree that has managed to survive outside, perhaps due to the good influence of having Buddha sitting nearby.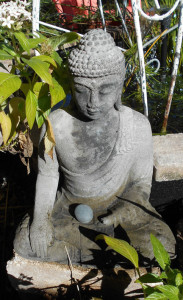 In the middle of yard St. Francis stands with a bowl in his hands, perfect for feeding birds. After all, St. Francis liked to give sermons to the birds. The story goes they would sit in nearby branches and listen.
Buddha, an angel, St. Francis – Oh yes, I have garden statues covering all the good vibes in my back garden.
You could do the same in your garden or on a lanai.
Yet a word of caution – for every saint there is a sinner. Be careful when putting say, a heron statue outside.
Garden statues can be saints or sinners
Last summer a great white heron came, landed on the open veranda, surveyed the situation, stalked over to the small pond and ate all but one goldfish. I don't want to encourage him to return by having a heron statue sitting there, a clear signal that herons are welcome (not).
And I wonder about those really big frog statues. Do I want a humongous toad to think this is the place to live just because I have a lookalike toad sitting sedately in ceramic glory?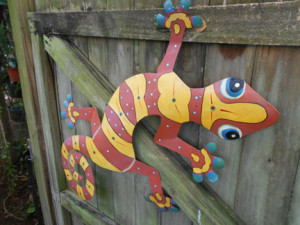 Some garden purists say having pink plastic flamingos in the yard is unforgivable – like giving in to funky kitsch is a mortal sin.
Nonsense. I say go for it, as long as they reside in the back yard and not in the front yard where the public drives by. There is, after all, some decorum to maintain.
But the back yard is your secret pleasure so why not indulge?
What happens in the back yard stays in the back yard.
Garden statues can compliment or complicate your garden plans for blooming plants, produce, native plants, rain barrels and ponds.
Let's be honest. We're attracted to these garden enhancements even if we just admire them but don't bring them home.
Speaking for myself, every time I travel I have to resist temptation.
Garden Statues are hard to resist
Some people can't walk by a shop that makes chocolate. I have trouble walking by any garden shop, both for the plants and the yard art.
On a recent trip to Tarpon Springs, I reluctantly declined to visit Tarpon Home & Garden – their brightly colored yard art filling up a corner lot on Pinellas Avenue but we had a tight schedule and a long day ahead.
Just so you know for future reference, Tarpon Home & Garden is located directly across the street from Mama Maria's Original Greek Cuisine, one of my favorite restaurants.
As you have already figured out, the chances of my going back to Tarpon Springs and giving in to the temptation to visit both places are excellent,
Finding yard art and garden statues
Yard art is found in surprising places.
For the ultimate kitsch yard art experience, go to Barberville Roadside Yard Art and Produce in the middle of the state on U.S. 40 near U.S 17. It is actually in the middle of, well, not much. It is a stand alone attraction.
Huge tin metal chickens share space with Mexican ceramic pots, squirrel statues, large dinosaurs. Once saw a 15-foot giraffe. This is a seriously funky and fun place to visit.
And then, just to top it off,  I have some surprise backyard art winners– birdbaths and birdhouses.
Formal gardens, especially those from the 18th and 19th century, often contain a reflecting pool – a shallow long rectangular pool with a still surface that acts as a mirror – reflecting the sky.
Did you know your birdbath does the same thing as formal reflecting pools? My birdbaths are terracotta dishes and I place them so when I'm sitting outside, they are nearby, I can see the trees, clouds and sky reflected in the still water. Peaceful, an ever-changing visual treat as the day moves on.
And those birdhouses are not just for birds. On a recent butterfly garden tour I saw birdhouses being used for plants. Vines spilled out the front opening and down the birdhouse.  Right now my only birdhouse has a resident toad living inside. Using birdhouses as planters will have to wait until his lease is up.
Summer is upon us.
Here is your plan:
Travel safely and do brake for yard art, garden statues and plants.
You never know what might come home with you. I actually liked the 15-foot giraffe in Barberville but fortunately for us all it was too big to fit in my small car.
Maybe it is time to visit Tarpon Springs again.
Who knows what saints and sinners are waiting to be discovered?
HABLA ESPANOL?
On May 1, 2016, the Spanish translation of my children's book debuted. It is the first translation of one of my books and I'm so happy it is Mary Margaret, a positive uplifting story for ages 4-10.
Enjoy and share with family and friends.
here is the book page on my Web site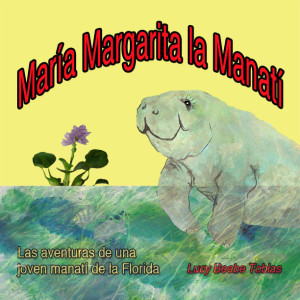 More to Explore
Go Greek for a day or two in Tarpon Springs
Key Largo has conch fritters calling your name
Flower power blooms in Florida