Shadows pinched the sunlight into slim shapes on the trail. A breeze lifted tree branches. The birds were silent.
Suddenly a war cry and the sound of thundering hoofs split the air. My back tingled with fear. I did not turn around.
So this is how it happens, I thought. Death comes as a surprise, an unwelcome intruder as you tramp through the present daydreaming about the past or pushing pictures into the future. A war cry shatters the air. The last sound you hear is the whoosh of a thrown tomahawk.
Then horse and rider, a Seminole Indian, swept past me, war cries in full whoop. No tomahawk in sight.  I had goose bumps everywhere but kept on smiling, walking, looking straight ahead into the camera's eye.
Living history reenactors bring Civil War battles to life
This scene, thank goodness, was a reenactment at Dade Battlefield Historic State Park in Busnell.  VISIT FLORIDA video crew filmed the event and I was the Authentic Florida expert talking on film (you can see the video here about the Dade Battlefield reenactment.) We asked a Seminole on horseback to make the war pass. It is only a blink on the video.
But it was all too real for U.S. soldiers that cold winter's day, Dec. 28, 1835, as 108 U.S. soldiers marched through the woods from Tampa to Ocala. "Be of good cheer" their leader told them, it wasn't far to Ocala where they would be warm, fed and have belated Christmas celebration. Then the Seminoles swept down. Only three soldiers survived.
Every year in January the Dade Battlefield reenactment takes place. It is so much fun they do it twice, once on Saturday, once on Sunday. The dates in 2013 are Jan. 5 & 6th. Battles are at 2 p.m. each day but do plan to bring your family and come earlier to see period camps, the Sutler trade fair, period arts and crafts. Take part in musket shooting, tomahawk throwing (no thank you) and archery.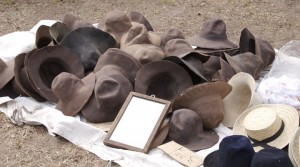 If you like seeing history come alive, Florida in the winter months has a cornucopia of conflicts and period presentations.  For a sampling of events, check out the Florida Reenactors Online News for an event roster. Also, individual parks, both state and federal, have events – be sure to look at their "Events" web page.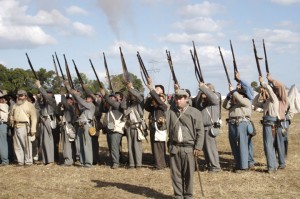 Why winter? It is real simple. All those old uniforms were heavy, as in HOT, and besides who wants to do reenactments in the summer when your most attentive audience members are mosquitoes?
Find living history reenactments on weekends around Florida
Many reenactments are on weekends since the men and women in costume, surprise, have Monday through Friday lives. But don't ask about those lives. When they are reenacting, their speech is in the period language, nothing modern day. They take on the persona of their character, their time, and their place. That is why reenactors are called living historians – a very cool label.
FLORIDA FAVORITES
In my Florida travels I meet fantastic people who are travel writers, residents, newcomers, guides and entrepreneurs, all are digging into the Florida places they love and finding treasures worth keeping. Here is Larry French of Deltona, novelist, speaker, editorial writer and content provider of science, social studies, language arts and math curricula. Oh, and did I mention Larry has been a Civil War reenactor for 35 years?
Here is our conversation from a phone interview on Oct. 30, 2012:
Lucy: "So did your love of history and writing about it in a novel lead you to reenacting?"
Larry: "Actually the reverse. I've always been intensely interested in history. I was fascinated with the Civil War as a kid, that grew through high school and in college I wrote a paper on Antebellum Florida.
Then in the Florida Park Service part of our job was becoming educated about the local history. I found out about the Battle of Olustee and that sparked my interest in finding a group. Can you believe 35 years ago I actually found reenactors, the campaign type guys – their portrayals were true to actual life?
That appealed to me, I immersed myself and developed a persona, a person who lived near my location, Enterprise, Florida, who had a similar profession."


Lucy: "What kind of soldier?"
Larry: "Confederate soldier, a third sergeant with the 2nd Florida Volunteers, Company E, recruited around Enterprise.
It was quite an experience. I found out how soldiers would write home so I began writing home to my wife. That was the start of my historical fiction story.
There is so much history. I just love it. When I do reenactments I slip off everything modern. I sleep on the ground, carry all my provisions."
Note: Larry has finished his novel "Time Will Tell, The Awakening" and an agent in New York is reading the manuscript. Read more about the novel and reenacting and getting involved in reenacting on Larry's web site.
Also, he is part of the historical interpretation committee for the 2nd Florida Volunteers, Company E and they do school presentations plus immersions – you can sign up to spend a day with a reenactor at an actual reenactment.
UPCOMING
Nov. 10-11 – Ocali Country Days Festival at Silver River State Park, Ocala. 9-4 each day, experience North Central Florida life in the 1800s with sugar cane syrup making, spinning, woodworking, crafts and food. Park fee waived. Festival fee $5 per person, under the age of six admitted free.
Nov. 10 – History of the American Soldier from 9-5 at Fort Clinch State Park, Fernandina Beach. Park entrance fee ($6 per vehicle up to eight people) plus one canned food donation per person for Fort admission. Canned food donated to Barnabas Center Food Pantry.
Dec.1-2 – Union Holiday Encampment, Fort Clinch State Park, Fernandina Beach.  Sat. from 9-5 and Sunday from 9-12. Park entrance fee plus $2 per person Fort admission.
January 5 & 6, 2013 – 177th Anniversary Dades Battle – 33rd Reenactment, at Dade Battlefield Historic State Park, Bushnell, from 9-5 each day, battle at 2 p.m. Fee $5 per person, children under six free, parking $2 per vehicle.

January 19-20 – Brooksville Raid Reenactment at Sand Hill Scout Reservation, with over 1500 reenactors and their families. See the Raid web site for upcoming details.
MORE TO EXPLORE
Lighthouse at St. Augustine still a beacon
Florida history makes a great walk in DeLand