Saturday Morning Magazine welcomes Patricia Pochurek as our guest blogger for December. Patricia is a member of the Florida Outdoors Writers Association (FOWA) and a resident of Palm Harbor. She bravely went forth beyond the Greek sponge docks to find food and fun in historic downtown Tarpon Springs. One example – a photo of Darth Vader playing pinball! It is a keeper.

Story and Photographs by Patricia Pochurek
When people think about visiting Tarpon Springs, the Sponge Docks highlighting the Greek culture is usually where they plan to go. That's a good decision. However, the downtown area of Tarpon Springs has a lot to offer too. And there is free parking in the Mother Meres city parking lot on the corner of Pinellas and Tarpon Avenues.
Consider including the historic downtown area in your next visit. There you'll find restaurants, antique shops, the Historic Train Depot Museum, a book store, Faklis' -a small family-owned footwear and shoe repair store that's been in the same location since 1912, and other establishments.   I'd suggest a stop in the Chamber of Commerce & Visitor Center and Jean, Jack, or one of the volunteers will be glad to assist you. (1 N. Pinellas Avenue, #B, Phone 727-937-6109, tarponspringschamber.com)
Downtown Tarpon Springs is full of surprises
That's how I discovered Olive The World Bistro located on a brick side street off Tarpon Avenue. Wandering requires nourishment. Relax and refresh at Olive The World Bistro and enjoy the small European style restaurant. The owners, Chris and Gini, lived in Europe for 17 years and wanted their bistro to have the same old-world atmosphere. A friend and I went for lunch. The restaurant was crowded.
Chris showed us to a table occupied by two women with the last empty seats and asked us all to share just like they do in Europe. We also had a choice of sitting at a table outside on the brick sidewalk with potted plants. I had the Shrimp and Artichoke Pasta. It's one of their most popular dishes and delicious. My friend had the Prosciutto di Parma, mozzarella and tomato with house made sundried tomato tapenade Panini.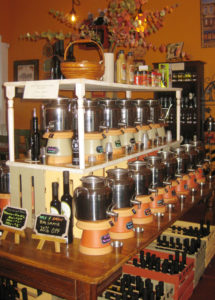 There is a choice of 30 different EVOO's (Extra Virgin Olive Oils) and Balsamics to try or to buy and take home. Craft beers and wine are available. The bistro just doubled their space and added both an ice cream and gelato area as well as a counter selling sheep, cow, and goat cheese from the US, UK, Italy, and France. The truffle cheese from Sardinia looked interesting. (24 Hibiscus Street, Phone: 727-937-5483, [email protected])
Bear Haven Land Company Vintage Toy Store opened in September. After buying the 1890s building and ripping up the carpet, owners Amanda and Dwane Johansen discovered the hardwood floor which they restored. Why did they open a vintage toy store? Almost everything in the store belonged to the family. Over the years, they would buy their three children one collectible toy to play with, and another that wouldn't be opened.
They had owned a Toyota dealership for years and would display their toy collection there. After they sold that business, the toys were all at their home, and the children were older. That's when they decided to open the toy store. Dwane said, "Owning a toy store is lots of fun and doesn't wear you out. I still have the cap guns I owned when I was five years old."
The store is packed with vintage toys. Barbies and other dolls, Marvel heroes, Star Wars, old baseball cards, car, and military memorabilia, bears, Legos, Transformers, lefty guitars, and much more. A box of light sabers were waiting for the next battle. Among the old baseball cards on display in the glass counter, I noticed Babe Ruth, Yogi, Berra, and Cy Young. Merchandise is priced from $.05 to $5,000. Several Frederic Remington bronze statues were for sale. "The best customers are the dads. They will be 12 years old until they die," said Dwane. He has owned 30 muscle cars over the years, and his 1967 red Shelby GT 350 convertible was parked in front of the store. (111 E. Tarpon Avenue, Phone: 727-935-7220, [email protected])
Come to downtown Tarpon Springs to a real arcade
Replay Museum – How long since you've been to an arcade? This is an interactive museum with over 100 playable pinball machines, video games and other fun things to do from the past. You don't need coins to play. The machines are set to "free play." There is a charge of $13 a day for adults and $7 for children ages 7 to 12 (with a paying adult) for unlimited play. Children 6 and younger are free. You can leave and come back all day. It would be a fun date place for something different. The Replay Museum is next door to the vintage toy store.
The Saturday I visited Tarpon Springs, both the toy store and the Replay Museum were packed with people that were Star Wars fans – and a lot of them were wearing Star Wars Stormtrooper and Shoretrooper from Rogue One uniforms. Even Darth Vader was inside, and he was playing the Star Wars pinball machine!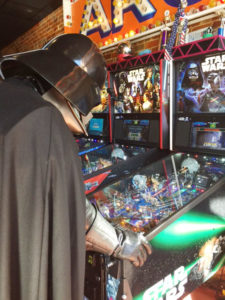 The people in uniform were part of the 501st Legion Costuming Club. November 4, 2017, was the 3rd Annual Star Wars Day at the Replay Museum, and the costuming club members were participating. A portion of the admission charge was donated to PARC, a Non-Profit organization that supports children and adults with intellectual and developmental disabilities. Visit the Replay Museum when you want to take a trip down memory lane. One man playing a pinball machine was wearing a T-shirt with the words, "The Force is strong in my family." (119 E. Tarpon Avenue, Phone: 727-233-8490, replaymuseum.org)
The Tarpon Tavern is by a brick sidewalk next to the Pinellas Bike Trail. In this section, the trail is in the middle of the narrow street. The English-style pub restaurant is in an historic 1925-era building and has a large covered cobblestone patio for dining outside. They claim to serve the best grub in town and offer more than 30 craft beers.
I've heard good things about their fish and chips, hamburgers, wings, beef slides, and fish tacos. Their Dang Dang Shrimp was featured on the nationally televised food show "What the Fung." At the large bar inside, there are several televisions where patrons can watch a game.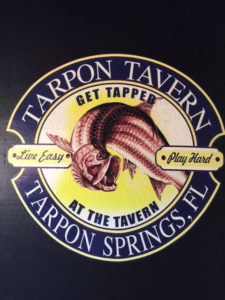 Sitting at a table outside under cover or on the sidewalk is a relaxing place to watch the people go by on bikes, walking, or driving. (21 N. Safford Avenue, Phone: 727-945-1000, tarpontavern.com)
Tarpon Springs now has an Irish pub. Just a few blocks away from the businesses above is Irish Kelly's Pub. It opened in July. The owner, Kelly Kerr, is a Canadian who opened an Irish Pub in a Greek town.
Her grandfather is of Irish descent, and she wanted to honor him. There is a full liquor bar that of course has Guinness beer, and the menu includes traditional Shepherd's pie, corned beef, and fish and chips served on newspaper. Several televisions show the Bucs games and other sporting events. Local bands perform on Fridays and Saturdays. (734 S. Pinellas Avenue, Tarpon Springs, Phone: 727-934-7900, IrishKelly.com)
Tarpon Springs has so many varied places to visit, ethnic foods to try, and fun things to do that you'll need more than a day or two to enjoy them all. The small businesses I've mentioned are located on the main city block except for Irish Kelly's Pub.
You'll have to return to enjoy the parks and beaches, the Pinellas Trail through town, attend one of the festivals, learn about the area's history at the museums, relax and enjoy a concert or a play, and wander the Greek Sponge Docks.
Circle January 6 on your calendar to be in Tarpon Springs for the Epiphany celebration. I'll be there.
More to Explore
Florida Bed & Breakfast Pamper Guests
Making Mosaics in Barcelona, Spain