LUCY'S BOOK REVIEW*
Paynes Prairie: A History of the Great Savanna by Lars Andersen

I'm convinced his mother qualified for sainthood. Seriously. Lillian Andersen used to drive her son Lars to Paynes Prairie so he could spend the day exploring, then picked him up in the evening with his day's finds which often included snakes. Snakes!
I too was a Gainesville mom but the first time my sons came home from exploring a creek and opened a sack that contained an old rat snake I took one look and said:
"One of us is leaving and it isn't me."
No sainthood at my house but I can  and do admire Lars' mom.
Lars Andersen grew up to be an enthusiastic explorer who shares his love of Florida history, nature and cultural heritage with kayak and walking tours through his Adventure Outpost in High Springs. Just reading the descriptions of upcoming trips is a treat.
Paynes Prairie – a place to explore, love and write about
The place he loved as a boy became a labor of love and a great book as an adult. Want a huge treat? Pick up his book Paynes Prairie: A History of the Great Savanna, published by Pineapple Press in 2001.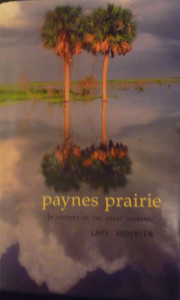 Lars was living in Texas researching North Central Florida history for an audiotape for car travelers. He found, to his surprise, that Paynes Prairie had a big role in this history. Even better, there was no book on the subject.
There is now. Paynes Prairie: A History of the Great Savanna, is an exquisite read that moves from millions of years ago to the present with such easy grace that you'd better buckle up and keep the coffee cup full, you won't be putting this book down.
The history of Paynes Prairie is the history of migration and it isn't over yet. In the mid and late Miocene, eons ago, the land bridge across the Bering Strait brought animals that found their way to Florida. Paynes Prairie was a savanna full of grass and they loved it. So did animals coming up from another land bridge joining North and South America.
But these migrations paled to the later arrivals of Indians, Spaniards, French, English, settlers, pirates, politicians – you get the picture. Even though the reader knows the Indians – first Paleo-Indians then Potano, Creeks, Seminoles along with runaway slaves – none will be able to hold on to Paynes Prairie in the face of settlers, Christian missionaries, political greed and a President named Andrew Jackson who loathed Indians – Lars paints the encounters in such a vivid way I found myself hoping the Indians would win. They did not.
Paynes Prairie preserved as a state park
With the migration of settlers who wanted quick access to farmland and distant places, dikes and highways were built and they seriously plundered the natural ecosystem. Debates on how to restore or create ecosystems continue to this day. Mercifully, a 17,346-acre tract of the Paynes Prairie basin became a state preserve in 1970. If you haven't been, start your journey by reading his book then take a trek to Paynes Prairie Preserve State Park near Gainesville.
It came as a big surprise to me to see the depth of his bibliography – over 90 titles in all.  Lars condenses a huge amount of knowledge into 139 very readable pages. This is the GO TO book on Paynes Prairie. It is available in hardcover and paperback.
Note: the new paperback edition of Paynes Prairie: The Great Savanna: A History and a Guide (2003) offers activities that can be done in the preserve along with maps.
* REVIEWS:Ah, so fine in the evening to make a bowl of organic popcorn and curl up with a good book, preferably about Florida! It is hard work but enjoyable. Reviewing Florida books starts this month. Enjoy.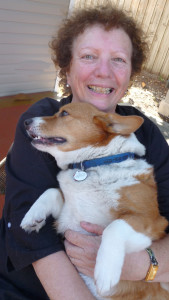 ps. Obi likes popcorn too. Well, don't we all?
More to Explore
Seeing sandhill cranes at Paynes Prairie
Gainesville is good to go for all seasons