Wait for it. Coming. Coming. Zing!
The calendar page turns and voila, March arrives today – yeah!
Flower power in Florida starts in January and goes through April, This is much different than "up North" but then Florida is tropical. The bloom surge peaks this month.
One example: Weather permitting, masses of magenta, white and pink azaleas, evergreen shrubs in the genus Rhododendron will soon fill botanical gardens, home landscapes and state parks.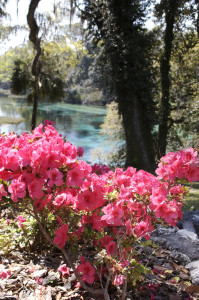 Say the magic words: "road trip", power up your camera batteries and get out the GPS.
Flower Power Around Florida
Flower power viewing suggestions around the state include: (always call ahead to see what is in bloom and admission fees):
Rainbow Springs State Park in Dunnellon (24 miles southwest of Ocala) was a private attraction decades ago and while the shows are gone remaining landscaping details are extensive, including waterfalls, walkways and plants.
Azaleas line walkways and Friends of Rainbow Springs State Park make it their mission to keep the colors going. One breathtaking view covers the lovely headwaters and on the hillside are azaleas in bloom. Call the park at (352) 465-8555 for bloom updates. An extra attraction this month is the Marion County Springs Festival being held at the park March 16-17 from 9-4 each day.
Harry P. Leu Gardens in Orlando, a private estate of 50 acres given to the city in 1961, has a page on its Web site that outlines "What's blooming" every month of the year. For March the list includes amaryllis, camellias, herbs, vines, gold/pink/yellow trumpet trees, citrus, shaving brush tree, angel trumpet, orchid tree.
This is a cool bonus – Those with camera phones can scan QR code images found on plant signs to learn more information about the plant collections – or bookmark the site for later reading. The Leus were avid gardeners, traveled a lot and brought home plants. There are 28 different plant collections including Mary Jane's beloved Rose Garden.
Call (407) 246-2620 to see what is in bloom before you visit. Leu Gardens are off I-4 east, take Exit 85, Princeton Street and follow the garden signs. The first Monday of every month admission to the gardens is free during the daytime.
If you are like the Leus and want to bring plants home, Leu Gardens is having a plant sale March 15-16 from 9-5 both days.
Alfred B. and Louise Maclay bought property for a winter home in Tallahassee. They began planting gardens in 1923 and eventually the land became a state park. Over the years, brick walkways, a secret garden, a reflection pool and a walled garden are all graced by an abundance of camellias and azaleas.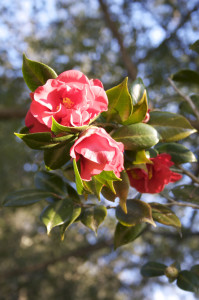 See Flower Power While Walking Parks and Gardens
Especially fine are the paths through forest areas where old live oaks with spreading limbs have bushes of azaleas and camellias sheltered under their branches.
From January 1 to April 30 a special fee is charged for visiting the gardens during this high blooming season. Floral peak is mid-to-late March.
The Alfred B. Maclay Gardens State Park is located one half mile north of 1-10 on U.S. 319/Thomasville Road, phone (850) 487-4556.
Surprisingly, the Gardens holds their annual tour of the gardens in May, a time that is "iffy" for weather and certainly past prime flower time.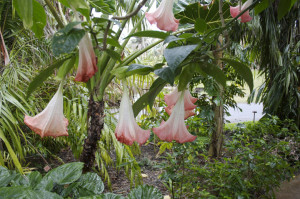 Are you an early bird? Starting today, and every Saturday and Sunday thereafter, join an Early Bird Walk from 7:45 a.m. to 9 a.m. at Fairchild Tropical Botanic Garden in Coral Gables. The gardens have 3,400 species of plants. Twice a day they release butterflies in Wings of the Tropics, a good place to learn about flowers that attract butterflies.  Call (305) 667-1651 for garden times and admission. Orchid lovers will want to know that the 12th Annual International Orchid Festival at Fairchild is coming Friday March 7 through Sunday, March 9 from 9:30 a.m. to 4:30 p.m.
All of the gardens above are chapters in my book 50 Great Walks in Florida and I've made a Flower Power map to show the gardens and butterfly gardens that are in the book.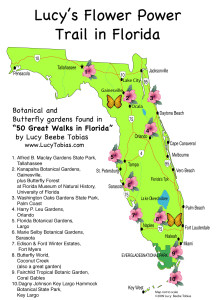 Did you notice how many of the state parks with lovely gardens were formerly private residences? There are also estates that are open to the public featuring lovely landscaping. The Edison & Ford Winter Estates in Fort Myers has heritage gardens worth wandering for an hour or two.
The Ringling in Sarasota has a Circus Museum, Museum of Art, the Ca'D'Zan where the Ringlings lived and Bayfront Gardens, some 65-acres of delightful bayfront strolling.
Take a 90-minute paid guided tour or do-it-yourself with your own gardens tour through Mable's Rose Garden, the Secret Garden, the Dwarf Garden, Banyan trees and Millennium Tree Trail.
Mondays are free admission at the Ringling (to the museum and grounds only).
The sun is shining, the calendar has turned, flowers will be at their peak this month – what are you waiting for? enjoy Florida flower power. Now is the time.
 Upcoming
On Saturday, March 15, the Sarasota Garden Club is having a Gardens in Paradise tour of five private coastal gardens, plus at their clubhouse and on the grounds will be garden displays, including authors of garden books. I'll be there with both of my books "Florida Gardens Gone Wild" and "50 Great Walks in Florida" and I'll have free copies of my Flower Power map. You do not have to buy a tour ticket to come to the Garden club grounds and see us! That is free. Location: 1131 Boulevard of the Arts, Sarasota, phone (941) 955-0875. Hours are 10-5
MORE to EXPLORE
A full plate of art in Polk County