"History is a fragile thing," says Max Herman, our guide with Ybor City Historic Walking Tours – a family-owned business started by his dad Lonnie Herman.
Take Ybor City as an example – a place that came to be because a rich young Spaniard chose to immigrate to Cuba and years later a hurricane prevented a plane from leaving Key West.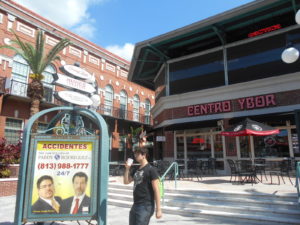 About that hurricane – Don Vicente Martinez Ybor (1818-1896) was all set to board a plane to Galveston, Texas. His plan – build a cigar factory there. His cigar factory in Cuba had been successful until he sided with those who wanted a free Cuba. The Spanish told him to leave and not come back.
Next Key West seemed perfect for cigar making but workers kept missing home and skipping back to Cuba just 90 miles away.
A friend showed up at the Key West airport. He too couldn't leave – the weather prevented that – but advised Martinez Ybor to put Texas on hold until he visited Tampa, Florida where the friend had just been. Tampa had a railroad, a port and fresh water, all ingredients for a successful cigar factory.
So a chance meeting, a delayed flight and history changes. Fragile indeed.
Historic Ybor City became the Cigar Capital of the World
In 1880 Martinez Ybor bought 40 acres of Tampa swampland, filled it in and invited competitors to build their factories alongside his. He solved the labor absentee problem by building casitas, little shotgun houses.
A casita cost $700 to build. He charged workers $700 to buy one – by taking $1.25 per week out of their pay check. Families moved in. They stayed. Italians, Cubans, Germans, Irish, immigrants from many countries arrived, worked and lived side by side.
The highest paid person in a cigar factory was the Lector – every worker contributed money from their paycheck so the Lector would read out loud – newspapers in the morning, in English, Spanish and Italian, then novels a chapter or two in the afternoon. If you wanted to know what happened next, show up for work the next day.
Martinez Ybor's cigar factory, now owned by the Church of Scientology, has a courtyard where cigar workers once ate lunch. School for children let out at noon then they'd come to the courtyard, play while their parents worked inside the factory and listen to the Lector through the open windows.
We sat in the courtyard and marveled at how different times were then.
Martinez Ybor's "bad" business decisions like inviting competitors to build with great loan terms, selling houses at cost – paid off big time.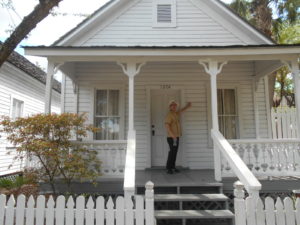 He didn't live to see it but in 1927 Ybor City was named the Cigar Capital of the World.
Then the 1929 crash happened. After that cigarettes, newly available in packages, took the puff out of cigars. In a frenzy of urban renewal in the 1960s and 1970s many casitas and neighborhoods in Ybor City were bulldozed.
Still the social clubs like the Italian Club, the Cuban Club survived while some cigar factory buildings were recycled to become corporate offices and breweries.
The New Orleans architectural flavor on 7th Avenue lives on and is complemented by the contemporary Centro Ybor shopping center packed with lively dining, theaters and shopping.
Another survivor from the city's early days – chickens. Seriously. We saw and heard roosters, hens and babies. They are protected. You can't even pick up their eggs.
Ybor City is designated as a National Historic Landmark District
Ten blocks of Ybor City are designated as a National Historic Landmark District. Our walking tour, 90 minutes at an easy pace, does a big circle of this district. Cost: $20 for Adults $10 for Children 6-12 FREE for Children 5 & under. Payment is in cash. Reservations are required – To make a reservation call 813-505-6779. You receive a text or e-mail confirmation.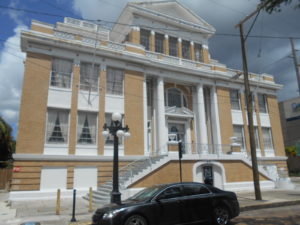 Max' narrative is fun and informative and he knows every shady spot to stand – perfect on a hot summer day.
We stopped at the only three remaining casitas – on a block that also houses the Ybor City Museum State Park, open Wednesday through Sunday from 9 a.m. to 5 p.m. Admission is $4 for an adult. Tours of the one casita owned by the park take place on the hour from 10 a.m. to 3 p.m. Wednesday through Sunday.
The museum itself used to house the Ferlita Bakery, famous for its Cuban bread. Max shows us a nail next to the front door of the museum's casita. Every casita had a similar nail by the front door. Early in the morning runners from the bakery would run up the steps, slap a big loaf of Cuban bread on the nail, and run to the next house to do the same slap.
Slapping bread on nails may be gone but Cuban bread remains hugely popular.
After the tour I visited La Segunda Central Bakery and held open the door for a person carrying a three-foot long loaf of Cuban bread out the door under their arm. And while I waited for my Cuban sandwich to go, more loaves of Cuban bread walked out the door under arms.
Historic Ybor City foodie alert
No Ybor City foodie alert is complete without mentioning the original Columbia restaurant that opened its doors in 1910. The same family, five generations, runs the entire operation of five restaurants around the state.
Come to the Columbia in Ybor City for the food, stay for the Flamingo dancing. Call 813-248-4961 for flamenco show reservations.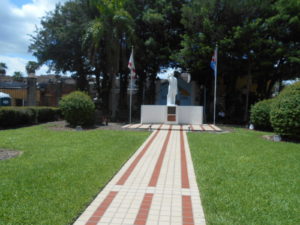 The most surprising "factoid" of our 90-minute tour was learning that a piece of land, a former family home, belongs to Cuba. The family willed it to Cuba. It is Cuba soil and has been since 1956. This site was the home where Cuban national hero Jose Marti stayed. Due to decay the home was removed but a mini-park exists here.
A piece of Cuba in Historic Ybor City
So, think about this – you can visit Cuba without leaving the United States. The little park has a Marti statue and trees with plaques from each Cuban province. Max told us the soil used for each tree comes from that particular Cuban province.
And back to that young Spaniard who immigrated to Cuba. Who was that? It was Vicente Martinez Ybor who came from a rich Spanish family. At the age of 14 he traveled alone to Cuba. Sounds really daring, until we learned from Max that Spain had mandatory military service. Rich families sent their male children to faraway places.
Martinez Ybor did well in Cuba, learned cigar making, started his own factory and the rest, as they say, is history.
Max is right. History is fragile. A turn here, a weather event there and history changes.
Visit Ybor City. Take the Historic Ybor City Walking Tour. Step back in time while enjoying the present.
UPCOMING EVENT
What are you doing Tuesday, July 11?
Mark your calendar. At 11 a.m. come meet with award-winning author Lucy Tobias at Bookstore1's new location at 12 South Palm Avenue, Sarasota. If you haven't been here yet, it is well worth a visit, beautiful building and great selection of books, magazines, cards, and writing materials. Lucy will be signing her award-winning books and doing a book reading – oh, and hugs are free. You can RSVP here
MORE TO EXPLORE
Making Mosaics in Barcelona, Spain
Myakka River State Park has an airboat tour
Don Pedro Island, Sombrero Beach and more calling your name