Visit Tallahassee, Florida where the past, present and future merge together.
A little known slice of history: state officials took turns traveling between two cities, every other year, in the early 1820's. Travel then was not fun or fast. In 1824 Tallahassee was picked to be the state capitol. Why? Geography favored it. Tallahassee lies in the middle between Pensacola and St. Augustine, the two cities visited by state officials.
The tall Capitol building used today looms over the Historic Capitol with its plantation white pillars spaced across the front facade. Old and new Capitols stand as sentinels at the intersection of Apalachee Parkway and Monroe Street and you can visit them both.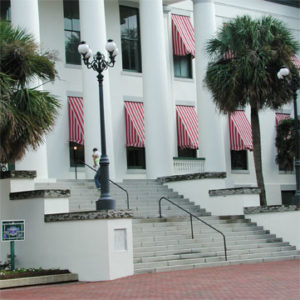 Be sure to take the elevator to the 22nd floor of the Capitol and admire the panoramic view of downtown Tallahassee.
Trying to park near the Capitol Complex is a frustrating endeavor especially when the legislature is in session. Fortunately downtown Tallahassee has a number of parking garages.
Legislators meet annually to debate and regulate Florida's future. But they are not the first to use the Tallahassee area high ground for summit meetings. Not by a long shot.
Visit Tallahassee where tribes gather for events
At Mission San Luis on West Tennessee Street the Apalachees built the largest historic-period Indian building found in the Southeast. The council building is reconstructed. All around the inside wall is a continuous bench. Good for sleeping or sitting up and debated the tribe's future.
At Lake Jackson Mounds Archaeological State Park on Indian Mound Road huge mounds, built without the aid of any mechanical tools, suggest important people lived on the flat tops or summit meetings took place, literally, on the summits.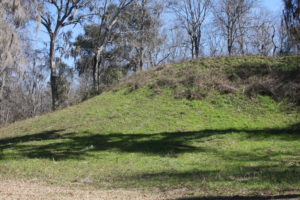 Whatever the mound use, this is a pretty important place; the capital of chiefdom and ceremonial center of the Fort Walton Culture from 1000 to 1500.
Trade items found here come from all over the Southeast. Many tribes met at Lake Jackson to trade, make connections, exchange business cards and decide the future. Sounds familiar. Sounds like the present.
Tribes today are likely find their way to Cascades Park in downtown Tallahassee. A first class outdoor amphitheater draws crowds with a fill calendar of events. Multi use trails, an interactive water fountain, a children's playground – you get the picture; all ages and interests are welcome.
Visit Tallahassee's newest addition – a labyrinth at FSU
While in downtown Tallahassee find your way to Florida State University and walk their permanent labyrinth dedicated November 2017. It is accessible to all. My dog Obi and I walked it on a cold winter day – so easy! Just four circuits to traverse. Come back when the plants recover and walk it again. There is a parking lot with visitor spaces between the FSU Psychology Department building the FSU College of Medicine building. The labyrinth is right in front of the parking lot.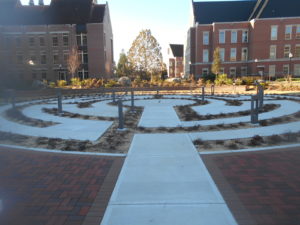 Pretty amazing to commit a physical space on campus for reflection and thinking – this labyrinth does that. And there is a second labyrinth, a finger labyrinth on a granite plaque right at the start of the labyrinth. Walk it with your fingers.
When the seasons change, check the calendar at Alfred B. Maclay Gardens State Park on Thomasville Road to see what is in bloom. Impressive any time of year, the winter months overflow with an abundance of azaleas and camellias.
No visit to Tallahassee can end for me without a walk around Lake Ella on North Monroe Street and a visit to Black Dog Café on the north end of the lake. Like a pigeon finding its way home to roost, this coffee addict hones in on Black Dog where espresso drinks are made one at a time and sometimes there are vegan apricot bars to die for. Just saying.
Visit Tallahassee Details to Digest
Capitol Complex: The Capitol is open to the public, at no charge, Monday through Friday from 8 a.m. to 5 p.m. The Historic Capitol Museum is open to the public, no charge, Monday through Friday from 9 a.m. to 4:30 p.m. Saturday from 10 a.m. to 4:30 p.m. and Sundays from noon to 4:30 p.m. Check in at the Reception Desk when you arrive.
Mission San Luis: 2100 West Tennessee Street, Tallahassee, phone 850-245-6406. Open Tuesday through Saturday from 10 a.m. to 4 p.m. Admission: Adults $6, Seniors 65 and over $3, children ages 6-17 pay $2 and children under the age of six free.
Lake Jackson Mounds Archaeological State Park: 3600 Indian Mound Road, Tallahassee, phone 850-487-7989. Admission: $3 per car. Open 8 a.m. to sundown 365 days a year.
Cascades Park: 1101 South Gadsden Street, Tallahassee, phone 850-891-3866. Open 24 hours a day. No admission charge.
Alfred B. Maclay Gardens State Park: 3540 Thomasville Road, Tallahassee, phone 850-487-4556. Park and historic gardens open 8 a.m. to sunset daily. Maclay House Museum is open January through April from 9 a.m. to 5 p.m. daily. Admission: $6 per vehicle, $4 single occupant vehicle.
Good News:
You can now preorder my upcoming labyrinth book featuring 98 labyrinths in Florida. Preorder here. Preorders receive their books one to two weeks before the publication date of September 1, 2018.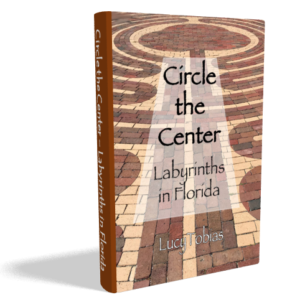 More to Explore
There are three awesome Tallahassee area walks in my book 50 Great Walks in Florida including Alfred B. Maclay Gardens State Park, Park Avenue Historic District and Lake Jackson Mounds Archaeological State Park.