Dog days of summer are here. There is only one cure – grab your leash and water bowl and head for the beach!
Obi, a Welsh Corgi, and I did just that, winding our way down A1A south of St. Augustine, looking for a dog-friendly beach recommended by Brenda Flynn and her Scottish Terrier Pearl.
Dog Friendly Beaches in Ormond Beach
"It is a well kept secret, not even the locals know it is here," said Flynn who lives in Ormond Beach. So secret we passed right by the street sign in Palm Coast for the turn because, silly me, I thought that there would be a dog beach sign. Hey, then it wouldn't be a secret.
The street is named Jungle Hut Road. About half way down you cross a parkway that goes to Ginn Hammock Beach and Hammock Beach Vacation Rentals. Just stay on Jungle Hut until it ends. Surprise! Here is a public entrance to the beach with a paved parking lot, restroom, showers and a dune walkover. Very nice.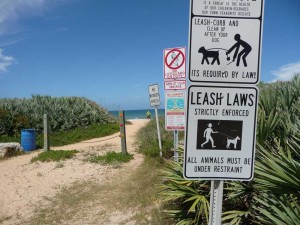 Leashed dogs are welcome. Clean up after your dog. Brenda is a regular here. She tells me low tide is the best time and in the evening, you are likely to see a dog coming down the steps from a waterfront home – carrying his leash in his mouth, his master trotting faithfully behind him.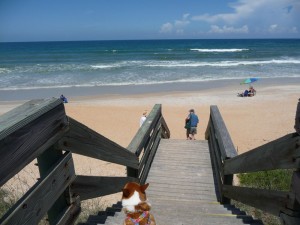 Obi, urban dog that he is, quickly decided walking on hot sand was not his thing so naturally I carried him to the dune walkover. It is so nice have a dog small enough to pick up and sit in my lap. The sand by the water was much cooler.
Pearl thought the waves were wonderful and she liked Obi a lot, charging at him in the dog version of "let's play!" He gave me that shocked look "Mom, the women are chasing me" and ran the other way. He got his feet wet at my encouragement but water wasn't his thing.
We moved on to the Golden Lion Café in Flagler Beach. Dogs can sit outside the rail. Brenda, Per Hans and I sat at a table right next to the rail.
Dog friendly beaches are often near a dog friendly cafe!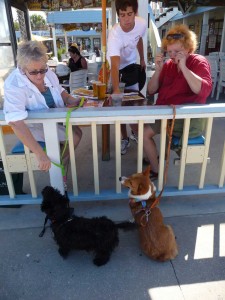 The fish taco was excellent, so were the onion rings. How sweet to smell salt air and look across the street to blue sky, white clouds and an ocean still clean, not yet spoiled by the oil spill.
Finding dog friendly beaches and dog parks in Florida is a challenge. Some are, some are not. Best to know ahead of time before venturing out. One good source is Florida Pets. Get on their E-mail list for regular updates on everything from places to play, restaurants that accept dogs and places to stay. Their motto: "They're part of the family, so take them along!"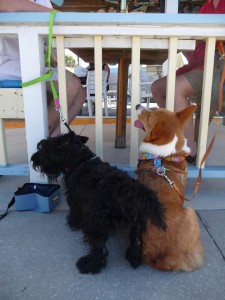 Another good resource is the Dog Lover's Companion Guide to Florida by Sally Deneen and Robert McClure. This book is in its fourth edition.
Some towns get two paws up for being dog friendly. Apalachicola comes to mind; here people even bring their dogs to work. Sanford puts out the welcome mat, or at least the water bowls. We found several water bowls at the Farmer's Market on Saturday.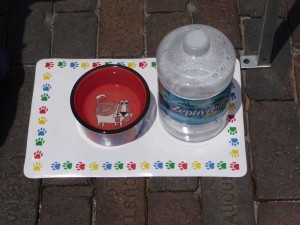 Do you know of more dog friendly places? Let me know in the "comment" section and we'll post the places. Your best four-legged friend will be happy with new places to explore.
Lucy Beebe Tobias is the author 'of "50 Great Walks in Florida" and a freelance Florida environmental writer.

[mappress]
More to Explore
Peace River Seafood and more in Punta Gorda
Pensacola – dig into the past or soar with angels