Wahoo! I was just there – Gulf Islands National Seashore in Pensacola – a long ribbon of bright white sandy beach so alluring it had to be singing a siren song:
"Come, sift the sand between your toes. Stay here. Stay here. Forget your worldly cares. Stay . . ."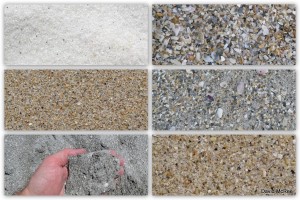 And the emerald green waters of the Gulf of Mexico echo the beach promise of sun and fun.
Florida beaches will have their way with you
Yep. Florida beaches can and will have their way with you. The sand sighs as you take off your shoes, sink into the sand and sift sand between your toes. There is the promise of natural detox plus getting gritty and feeling great. All this without even getting wet yet. Just stroll and watch the pelicans skim the water's surface. Bend down and do the shark tooth shuffle, looking for castoffs from the deep. Inhale. Renew. Revive.
And the sunsets, ah well, line up and enjoy the awesome sunsets over the Gulf of Mexico. Here's a thought – go to the Sandbar Waterfront Restaurant in Anna Maria, take an outside table and have a front row seat for the sunset.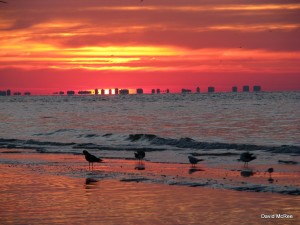 Sunrises over the Atlantic are pretty spectacular too. Once a photographer and I showed up at Anastasia State Park early, before sunrise, to do a newspaper story on a gentleman doing sandcastle building practicing for a national competition. As the sun came up, casting golden light on the water and the beach, his castle grew taller and taller and more amazing. I looked around and thought: "It doesn't get any better than this."
You are nodding your head. You know what I'm talking about. Still it comes as a nice surprise that others are nodding their heads too. Nine Florida beaches, including Gulf Island National Seashore in Pensacola are among the top 25 beaches in the United States, just named in a Travelers' Choice 2013 award posted by tripadvisor.
The other beaches are Canaveral National Seashore, Titusville; Caladesi Island State Park, Dunedin; Pensacola Beach, Pensacola; Clearwater Beach; St. Andrews State Park, Panama City; Fort DeSoto Park, Terra Verde; Siesta Key Public Beach, Sarasota; Pass-a-Grille, St. Pete Beach.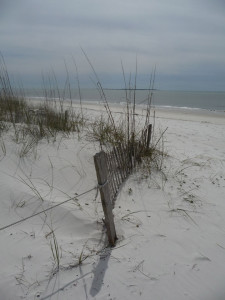 My goodness! The only other state to come close to those numbers is Hawaii. These Travelers Choice awards are like winning the Oscars. Everyone wants to go see the movies that won. Let's go experience all the beaches that one – a nice spring project for you.
Florida beaches include some friendly for dogs
I'd be remiss if I didn't mention that Obi, my Welsh corgi, accompanied me to the Panhandle last week. Dogs are not allowed on Pensacola or the Gulf Seashore beaches but we found a small beach on a bayou that did the job. Obi isn't about to get his paws wet. At Bayview Park dog park in Pensacola he enjoyed running around in the sand with other dogs while one dog got really serious about digging a deep hole at the waterline – all the way to China?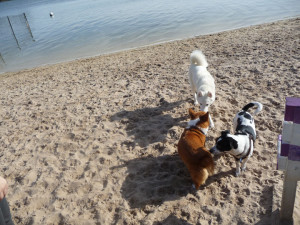 Patricia Collier is the keeper of a site for Florida Pets that includes lists of dog-friendly beaches. For example, one of the award-winning beaches, Fort DeSoto Park in Terra Verde has a Paw Playground and beach so if your best friend has four legs and likes water, here you go.
Florida is shaped like an upside down boot dipped in water on three sides with a total of 663 miles of beach and 2,276 statute miles of shoreline. Oh, and in addition, Florida has more than 11,000 miles of rivers, streams and waterways – many of these shorelines sport sandy beaches.
The beach sands are calling. Will you answer the call? I have to go now, the sun is setting on Lido Beach and I don't want to miss it.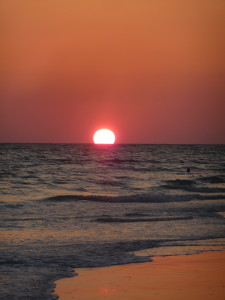 In my Florida travels I meet fantastic people who are travel writers, residents, newcomers, guides and entrepreneurs, all are digging into the Florida places they love and finding treasures worth keeping.
In his own words, here is David McRee whom I got to know when he served as Beaches Expert for VISIT FLORIDA the same time I served as Authentic Florida Expert. David loves Florida beaches and he is the real deal, he grew up near Florida beaches. Be sure to check out his beach blog. You will like it.
The continental United States has thousands of miles of beaches along its coastal states, but it is Florida's beaches that reach into the warm waters of the Caribbean.
I started enjoying those beaches with my family before I could even walk. More than fifty years later those are still some of the fondest memories I have: Daddy teaching me to dog paddle, Mama trying to keep me covered with Sea & Ski suntan lotion, and me trying to eat an icy-cold banana popsicle from the beach snack bar before it melts under the hot July sun.
At the beach our senses are awakened. We inhale salty air mixed with coconut oil fragrance and we smell burgers cooking on the grill; we hear the laughing of gulls and the steady roar of the ocean; and we feel the salt from the sea drying to a crust on our skin under the summer sun.
In nature, the most vibrant places are often found at an edge, where forest meets field, where cold meets warm, where east meets west. The beach is the edge where the salt water wilderness meets the familiar.
The beach inspires wonder and invites contemplation. The stark simplicity of water, sand, and sky helps remove us from overwhelming busyness and technological distraction of modern life. We can hear ourselves think again.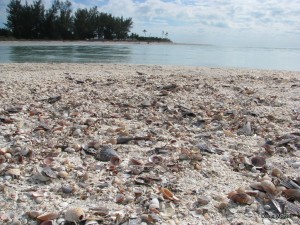 During my childhood years, my home beach was on Anna Maria Island, a seven-mile strip of white sand and tall Australian pines, with communities where the locals outnumbered the tourists for most of the year.
It was later in life that I discovered the curious variety of beaches in Florida. We have the most famous shelling beaches in the world: Sanibel and Captiva. We have some of the most important nesting beaches for Loggerhead sea turtles in the world on Brevard County's Atlantic coast beaches.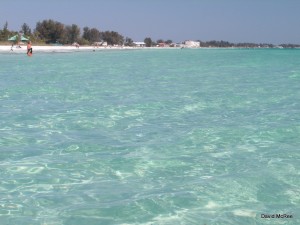 We have everything from crowded resort beaches with amenities that could challenge Disney World (Panama City Beach and Clearwater Beach) to quiet natural beaches on islands that can only be reached by boat (Anclote Key and Cayo Costa).
We have some of the purest white-quartz beaches in the world. But which is the whitest? It could be Siesta Key beach, or it could be one of the beaches in the western Florida panhandle, like those on Santa Rosa Island. You'll just have to visit them all to decide for yourself.
But don't think you have to have a beach with white quartz sand. How about looking for fossilized shark teeth on the dark gray sands of Venice? To really appreciate the beauty of Florida beach sand, dig your toes into the brown-orange sands of Ormond Beach or the biogenic sands of the Florida Keys, made up not of minerals and shell fragments, but of tiny bits of coral and forams–shells of tiny single-cell marine organisms.
Just because you've seen one Florida beach doesn't mean you've seen them all. Explore. You'll be surprised at what you'll find.
David McRee writes about Florida beaches and islands at BlogTheBeach.com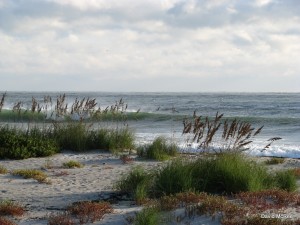 MORE TO EXPLORE
Art and food go together in Puerto Vallarta
Winter Park puts a smile in your step