Florida Bed & Breakfasts – you never know where you will find one.
Wandering around Florida's Forgotten Coast I found myself in the fishing village of Apalachicola and discovered the Coombs Inn & Suites, three lovely historic Victorian Mansions.
I stayed in the yellow and white Coombs House Inn. The vintage home gleams with polished hardwood floors, boasts tall pocket doors to rooms, high ceilings and high beds.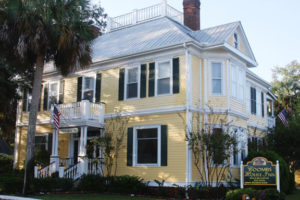 Yes, I had to hop up onto my bed and I'm five feet nine. Fun!
Breakfast, ah, what a meal. At a Bed & Breakfast your plan is to sit down and get spoiled.
At a B& B expect:
Full bodied breakfast aromas to die for.
Food made by a cook who really wants to spoil you.
A table spread with linens, fine china, napkin rings and fresh flowers.
Local and national newspapers folded nearby.
Reasons to grab your grub and run? None.
Stay and enjoy the moment, the minute, even the hour. Get to know your fellow guests (if they are up yet), chat with your cook and let out a sigh of relief at being pampered.
Perhaps ignore the newspapers for now as you are officially on hiatus from the daily angst over where the President was born and if climate change is real.
Apalachicola has one blinking light. Lots to see and do within walking distance when breakfast is finally done.
For starters, from Coombs I walked to the Orman House Historic State Park and the John Gorrie State Museum. Until I stepped inside the small Gorrie Museum I had no idea the South as we know it today would not exist without John Gorrie – he invented air conditioning as a way to cool down his fever patients. Who knew?
Apalachicola is dog friendly. Business people bring their canine friends to work. Water bowls are everywhere. And yes, Coombs has a limited number of pet-friendly rooms. They accept pets under 25 pounds for a fee of $25 a day. My Welsh Corgi, Obi, is a tad over that weight limit.
Florida Bed & Breakfasts – inside a historic home
Bed and Breakfast. What a great combination.
Partner B&Bs with a restored historic Florida home, add delightful innkeepers, make a reservation and life is good indeed.
In St. Augustine the St. Francis Inn Bed & Breakfast has been in its same corner spot on St. George Street since oh, 1791. The oldest inn sits squarely downtown in the oldest city.
This B&B was for several years my go to place for a two-day birthday break – my getaway present to me.
The cozy downstairs sitting room becomes a community center where guests catch up with each other's days and share a glass of wine and homemade cookies in the afternoons.
Their gourmet breakfasts are the stuff of legends. They generate lots of food photos on Facebook.
I'm quite fond of sitting in their walled garden with its old artesian well, weaving stories in my imagination about all the generations of people who have walked here.
Zeke used to be the St. Francis Inn resident cat. He has since passed on but Bootsie is here now and has quickly learned the art of claiming the courtyard and taking a nap in the shade.
St. Francis Inn B&B, in selected rooms, takes pets up to 45 pounds (Obi qualifies) at a rate of $20 a day.
For your calendar notation – the months of August and September are their slow months (read – fewer tourists) with nice packages for mid-week visitors (Sundays through Thursday).
For sure there will be things to talk about back in that cozy sitting room when you take an evening sunset cruise. There are several – the St. Augustine Scenic Cruise that I've taken several times and dolphins joined us, leaping in the bow wake. Or the Schooner Freedom Charters with different boat tours have been sailing the waters of St. Augustine since 2001.
From November 19 through early January, when the sun goes down St. Augustine turns on millions of little lights in its historic downtown area – this is a great time to take one of those boat tours and see the lights.
Florida Bed & Breakfasts – where breakfast really matters
The Alling House B&B in Orange City, near DeLand, has two really good things going for it:
one = gracious innkeepers Gerald and Nan Hill
two = an older home with five cottages ringed in a circle behind it, all part of the B&B.
Nearby must-sees include Blue Spring State Park, especially during the months of November to April when manatees claim the springs as a winter residence.
Delightful DeLand is less than five miles up the road. Take time to do the mural walk, a chapter in my book 50 Great Walks in Florida.It
It is my belief that when the Greeks are cooking, just show up – so I can highly recommend the Santorini Restaurant on North Woodward Boulevard in DeLand. They are closed Sundays and Mondays.
If you truly are smitten with B&Bs, why not buy one? The Seven Sisters Inn in Ocala is for sale and has been since April, 2016. Also the Laughing Lizard in Indian Rocks Beach is for sale.
Meanwhile, I am content to be a guest occasionally at a Florida Bed & Breakfast and hopefully take my dog with me. Perhaps Obi can meet Bootsie in St. Augustine.
More to Explore
Art and food go together in Puerto Vallarta
Florida coloring books are yours for free
Discover Sea Grass Jungles in Florida