Labyrinths. What a nice surprise to find them in Florida.
Egan's Creek Park, for example, has been transformed with a whole new look and attitude – it even has a labyrinth.
The small park on Atlantic Boulevard in Fernandina Beach underwent a huge facelift– going from a large grassy area next to a creek to an exciting place with walking/jogging trails, exercise equipment, a kayak/SUP dock, a covered picnic area and a sweet labyrinth installed by 8 Flags Playscapes, Inc.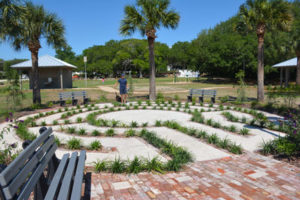 The labyrinth is a great addition to the community and it is getting a lot of attention.
Christine Anne Platel, a Veriditas-trained Labyrinth Facilitator, is its champion. She has a Facebook page for the labyrinth and schedules events including labyrinth walks on each new moon and full moon.
"My intention is to extend the opportunity to walk the labyrinth to others who may not know about it, like the Council on Aging and youth groups," said Platel.
Good intention!
And I have the same goal. Since spring of 2016 I've been walking labyrinths all over Florida for my next book entitled Circling the Center: the Labyrinth Trail in Florida, publication date September 1, 2018.
Didn't know Florida had labyrinths? Neither did I – so here is a labyrinth primer:
Are labyrinths and mazes the same?
No. A labyrinth has one way into the center and one way out. There are no dead ends. You cannot get lost.
Whose idea was it to make a labyrinth?
That answer is lost in the mists of time. Labyrinths, and the unknown reasons for building them, go back 5,000 years. They are found in every culture, including those that have never had contact with another culture.
Labyrinths are based on sacred geometry, the spiral shape is found repeated over and over throughout the universe, like the shape of the Milky Way, a spider web, the rings rippling out from a rock tossed into the water, even your thumbprint is a labyrinth.
Why walk a labyrinth?
Each step can be a prayer, a way to de-stress, an opening of your mind to finding the center of your heart. In medieval times labyrinths were embedded on cathedral floors so pilgrims who couldn't make the trip to Jerusalem could make a substitute spiritual journey on a labyrinth.
The walk is symbolic of life's walk, a lovely order to life's turns and quite in contract to chaos.
Labyrinths are part of Integrated Therapy, recommended for grieving persons, for wellness, and for those who are open to change, the experience can be a transformative. experience.
Where do I find labyrinths in Florida?
Labyrinths are found all the way from Pensacola down to Miami. Start on the Internet with the World Wide Labyrinth Locator, go to the menu bar on the left, choose the locator then plug in Florida. Also visit my Facebook page Labyrinth of the Week
And in the fullness of time, follow the labyrinth trail in my new book.
Are all labyrinths located on church grounds?
The majority of labyrinths in Florida, some sixty percent, are found on church grounds. The second most popular place for labyrinths turns out to be private gardens – you call ahead and make an appointment. Labyrinths are also found at retreat centers, Hospice facilities, universities (Florida State University in Tallahassee is building one on campus right now), spas, hospitals, county parks, art museums (three art museums in Florida have labyrinths) and more.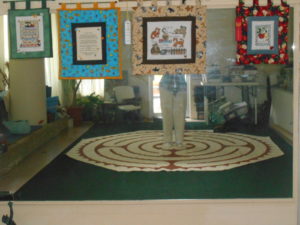 Not all labyrinths are permanent. Some are made on beaches to be washed away with the tide. Others are painted on canvas to be unrolled for events. Or, at the Wellness Spa in High Springs, you can call Suzie Ann Clark (386-454-8889) to make an appointment. Upon arrival she will take you to the yoga room and unroll the five-circuit canvas labyrinth beautifully painted by the St. Louis Labyrinth Project.
Do all labyrinths look alike?
Not at all, every labyrinth is different. The materials used to make them vary, so does the size and shape.
Many are the classical spiral shape copied after the 11-circuit labyrinth on the floor of Chartres Cathedral in France. Some are contemporary like the one at Dali Museum in St. Petersburg
At Unity of Venice church there is a garden labyrinth where the path outline area holds plants, garden statues, stones people have brought here from their travels. It is a living, changing labyrinth.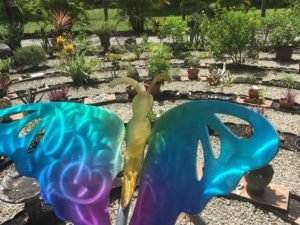 Ready to get started and walk a labyrinth? Good, enjoy, take it one step at a time.
SURVEY UPDATE
Thank you to those who answered our survey last month. Unfortunately Irma came along right after Saturday Morning Magazine was published, and everyone was distracted, including us, so we are doing the survey again. Here it is:
Because of your interest in travel, the environment and yet to be discovered adventures, you are invited to be part of a brief survey about Saturday Morning Magazine (SMM):
What SMM topics are your favorites?
Would you read SMM twice a month?
What subjects would you like to see more of in SMM?
Send your answers to:
Thanks!
More to Explore
Grab flip flops and let's go to Hollywood, Florida
Flutter with the Butterflies in Fort Myers
Jack Kerouac Slept and Write in College Park, Florida