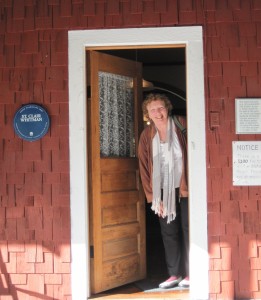 Hello, I'm Lucy Beebe Tobias, Florida book author  exploring heritage travel, family and budget friendly places for all ages, day trips and overnights with your dog, ecotourism – all reasons to get out the door and get connected with authentic Florida.
Is there more to Florida than Disney? You bet. This is a good place to start. Check out my books and sign up for Saturday Morning Magazine. Enjoy

This author photo was taken in Cedar Key by Barbara Fitos. Cedar Key is a piece of Old Florida off the beaten track.


Lucy's BOOK 50 Great Walks in Florida , is a bestselling book published by University Press of Florida as part of their Wild Florida series. A great walk is a short but significant jaunt where you get some exercise, learn new things and are done in time for lunch.

Click on any of the books below for purchase information . . .