NEW – a map showing all 50 Great Walks in Florida. See it  here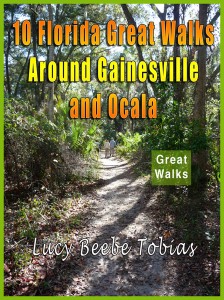 10 Florida Great Walks Around Gainesville and Ocala is Lucy's newest e book. Give yourself a treat – buy the book for $2.99 at Amazon. Kindle Prime members can borrow the book. Enjoy!
Lucy's BOOK 50 Great Walks in Florida , published February, 2008 by University Press of Florida as part of their Wild Florida series. A great walk is a short but significant jaunt where you get some exercise, learn new things and are done in time for lunch.

Saturday Mornings with Lucy is Lucy's monthly magazine (comes out the first Saturday of the month) about undiscovered Florida with facinating local adventures, environmental wonders and things that might amaze you right in your own back yard. Put your e mail at the right for a spam-free subscription.
Lucy Live  – UPCOMING events
The TELL ALL bio page, well, almost all.
For two years Lucy was the Authentic Florida Expert for VISIT FLORIDA. Florida videos on places like Apalachicola, Castillo de San Marcos, Ybor City and Kingsley Plantation. Stories on where to take your dog in Florida and how to see the state Indiana Jones style. Oh, my. Check here for her videos, stories, blogs and Q&A
Click on any of the books below for purchase information . . .