You never know who will arrive for breakfast at the bird feeder. Here is who came to breakfast on Easter Sunday morning – a red breasted grosbeak. He came back in the afternoon with his mate!.
Like birds? Read the upcoming Saturday Morning Magazine on the first Saturday of May when I tell all about the Florida Birding Trail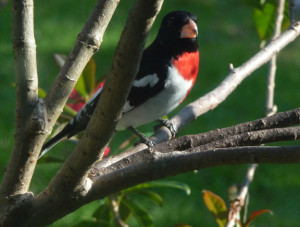 Lucy's BOOK 50 Great Walks in Florida , is a bestselling book published by University Press of Florida as part of their Wild Florida series. A great walk is a short but significant jaunt where you get some exercise, learn new things and are done in time for lunch.

Click on any of the books below for purchase information . . .