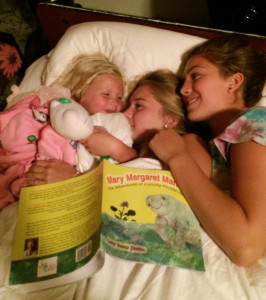 When my granddaughter Madison was going on a trip to Hawaii recently her mom said she could take one book – and she chose my book "Mary Margaret Manatee: the Adventures of a young Florida manatee" Wahoo! Here she is in Hawaii, on the left, snuggled up with Mary Margaret, another granddaughter Finn on the right and Finn's school friend Elsa. You too can have Mary Margaret in your life – check out this link to Amazon.
Lucy's BOOK 50 Great Walks in Florida , is a bestselling book published by University Press of Florida as part of their Wild Florida series. A great walk is a short but significant jaunt where you get some exercise, learn new things and are done in time for lunch.

Click on any of the books below for purchase information . . .