What are you doing Saturday morning? Here's an idea – let's go to the Fernandina Farmers Market, held every Saturday from 9 a.m. to 1 p.m. I like those hours. You don't have to get up early to get the good stuff. Parking is free and plentiful.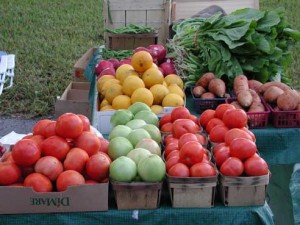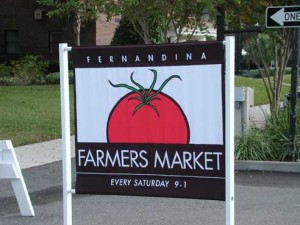 Located at the corner of Centre Street and 7th Street north, right in the heart of Fernandina Beach's historic district, on June 6th the blueberry growers are expected to start showing up. Yes, it is blueberry season! One June 13, the Sweet Grass Cow & Goat Cheeses will be one of the booths.
Always there are landscape plants for sale, many native plants and beautiful blooming things that I want to take home with me. You'll find prepared foods for lunch, Growers Alliance organic shade bean coffee (yes, they give sample coffee drinks!), honey vendors, craft persons and often live music.
Ah, what a great way to start a Saturday morning. In my book "50 Great Walks in Florida", Chapter 11 is A Stroll Through History: The Historic Downtown Fernandina Beach Centre Street Stroll and Chapter 12 is Nature's Classroom: Willow Pond Nature Trail, Fort Clinch State Park
Farmers Markets in Gainesville and more
Saturday mornings in Gainesville let's visit the Alachua County Farmers' Market, the only Grower's Only Market in North-Central Florida (that is a lot of "only"). All the produce is grown within 50 miles of the market and you get the meet the farmer.
This is "buy local" taken seriously. The market is in an open-air metal pavilion. Hours are every Saturday from 8:30 a.m. to 1 p.m. or until the produce is gone, whichever comes first. If you are going to GPS it, the address is 5920 N.W. 13th Street, Gainesville.
Then take a walk in Kanapaha Botanical Gardens (Chapter 16: Wander through a Garden of Eden) and take a gander at the historic buildings on the University of Florida campus (Chapter 15: A Walk on the Gothic Side)
Saturday Summer Market is a big attraction in downtown St. Petersburg, starting Saturday, June 6 and continuing every Saturday through September 16. Hours are 9 a.m. to 1 p.m. Location is the Mahaffey Theater parking garage, 400 First St. S., St. Petersburg.
What you'll find: regular and organic produce and fruit, baked goods, plants, flowers orchids, fresh herbs, prepared foods and hand-crafted wares. Fun!
St. Pete is a Bonus Point in Chapter 34: A Walk for Everyone: Fort DeSoto County Park, Tierra Verde.
South over the Skyway bridge and into Sarasota, the downtown Saturday Market takes over two blocks between the hours of 7 a.m. and 1 p.m. A full slate of 70 vendors, from Maggi's, famous for seafood, to Java Dog, best latte in town, to hand made clothes and plants for your garden, plus great selection of organic produce, all grown locally.
Downtown Market happens in Tallahassee every Saturday from 9 a.m. to 3 p.m. March through November. This takes place on the chain of green parks in Park Avenue Historic District, just a few blocks from the capital.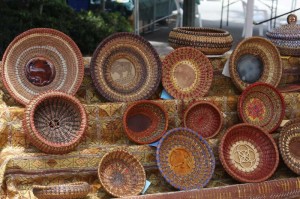 This is a lively market. You'll meet local artisans (I have a piece of fused glass all the more special because I met the artist), see lots of artwork alongside local produce and heaering live music is a given. Don't have breakfast or lunch before you come – because you'll find everything from muffins to soup and salad.
The chain of parks are covered in Chapter 2: Step into History: Park Avenue Historic District, Tallahassee.
For a list of community farmer's markets all over Florida, check out this Web site.

When you go to farmer's markets, you are supporting your local economy, getting an artistic eyeful and having an adventure.
Who said there was nothing to do in the summertime? Sure there is. Spend your morning at a farmer's market then open up your copy of my book. Great walks are calling. Enjoy
Lucy Beebe Tobias is the author of "50 Great Walks in Florida", University Press of Florida, 2008, and the Authentic Florida Expert for VISIT FLORIDA.

MORE TO EXPLORE
Wachula – go there on the third Saturday of the month
Art and food go together in Puerto Vallarta