Have you seen Lucy lately?  Here are some selected mentions, articles and more.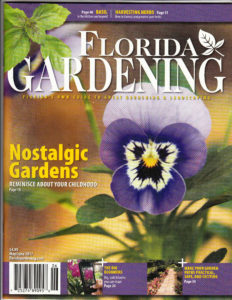 The May-June 2017 issue of Florida Gardening has an article by Lucy Tobias entitled "A Game Changer for your Garden" – you guessed it, the story is about putting together a rain barrel. Essential reading.
The fall 2016 issue of Travel World International has two stories and photographs by Lucy Beebe Tobias, both in Puerto Vallarta, Mexico. Lunch in a river and art and food in Puerto Vallarta
Here is the link:
Two recent issues of Florida Gardening have articles by Lucy Beebe Tobias. The January/February issue 2016 has a Gardener's Profile of former Florida Governor Buddy MacKay and the February/March 2016 has a story and photos by Lucy on bioswales and water gardens.
The magazine link is here
Grow More in Less Space
from Florida Gardening Magazine, February 2013
In Ocala, Keen and Bill Wells grow bushels of vegetables, herbs and fruits on a tiny piece of land. And they do it hydroponically  Rows of PVC poles hold 24 pots on a pole, all bursting with produce. The strawberries, especially  are amazing … MORE
Florida Gardens Gone Wild Book Review
from Florida Gardening Magazine, Aug/Sep 2012
Summer is the perfect time to sit back with a glass of iced tea and let Lucy Beebe Tobias take you along on her personal journey through the world of Sunshine State gardening. More …