September in Florida can be cruel. An early morning breeze caresses our cheeks like a lover's touch and then bam! An hour later the thrill of fall is gone, replaced by yet another hot day and humid night – enough already!
So here is your September survival plan – stay in air conditioning a little longer. But don't do this at home. Head for your nearest Florida art museum. Seriously. The AC is turned on. Florida art museums have exciting exhibits you don't want to miss. Gift shops are loaded with temptations. An art museum café is a great place for taking a food break.
Sounds like a plan. I beat the heat and head to St. Petersburg to see the special Escher exhibit (Aug. 22, 2015 through Jan. 3, 2016) at the Dali Museum.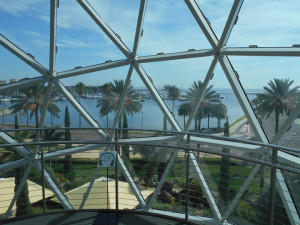 Escher has long fascinated me. His intricate playing with positive and negative space (birds flying one way with the spaces being birds flying the other way) makes the viewer wonder – how many levels of reality are there? Good question.
The Escher exhibit is included in the price of admission to the Dali. I recommend the free audio guides. Museum hours are 10-5 with extended hours on Thursday (10-8). Parking onsite costs $10 for non-members but there are nearby surface lots and street parking too.
Close by on Beach Drive the venerable Museum of Fine Arts has a visiting exhibit called Five Decades of Photography (June 20 through Oct. 4) and another one called 50 Artworks for 50 Years. Notice a lot of "5's" in the titles? That is because in 2015 MFA celebrates 50 years as a Florida art museum.
See the admission page for fees. MFA is open Monday through Friday from 10-5, Thursday from 10-8 and Sunday from noon -5.
Come back to MFA for a launch party on Oct. 21 when, as part of their anniversary celebration, they will launch a new cookbook called Food and Art, their first new cookbook in 40 years.
Over the Skyway to a Unique Art Museum
Just over the Skyway Bridge in Sarasota is the famed Ringling Museum of Art. Admission prices vary. On Mondays the museum is free while admission is required for other buildings on the grounds such as the circus museum. John and Mable Ringling, of circus fame, traveled widely, collected wildly and brought home every bit of Europe they could carry. The result – an exciting, restless collection of buildings that house in depth collections and changing exhibits.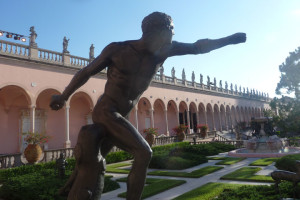 One current exhibit called Back and Forth: Thinking in Paint (Aug. 14-Oct. 25) is a dialog between contemporary painting by the faculty of Florida State University and the Ringling's permanent collection.
Florida Art Museum Buildings Are Worth Exploring
Buildings housing Florida art museums get a lot of attention. The Dali museum building and grounds, modern and playful in the Dali "look at me" spirit, can be a destination in itself but what's inside is even better than the outside.
The same is true of the Lightner Museum in St. Augustine. The setting is the former Hotel Alcazar built in 1887 by railroad magnate Henry M. Flagler. It is grand, elegant, meant to be a showpiece. And it works – inside and out.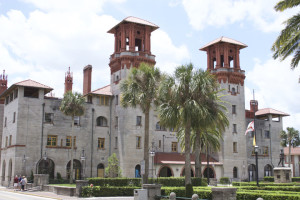 Chicago publisher Otto Lightner bought the building in 1946 to house his extensive collection of 19th century life, often called "The Gilded Age". Wander all three floors of the old hotel. Rooms are filled with cut glass, Victorian art glass, costumes, furnishings, paintings and my personal favorite – a section with the stained glass work of Louis Comfort Tiffany.
Admission prices vary. The Lightner Museum is open every day (but Christmas) fro 9-5. Last admission is at 4 p.m.
Museum Galleries Galore in Gainesville
In Gainesville the Historic Thomas Center occupies a former private residence and hotel built in Mediterranean Revival Style. The popular center has galleries in rooms with high ceilings and lovely light. The current exhibit is Beauty and the Beasts (June 26-September 19). To know more, contact Russell Etling, cultural affairs manager, at 352-393-8532 or visit www.gvlculturalaffairs.org.
The Harn Museum of Art on the University of Florida campus offers rotating exhibits in well-appointed galleries. It is a year for birthdays. The Harn is celebrating its 25th birthday.
Admission is free. Open Tuesday – Friday, 11 a.m. – 5 p.m. Saturday, 10 a.m. – 5 p.m. Sunday, 1 – 5 p.m. Open the second Thursday evening of each month from 6 – 9 p.m. for Museum Nights. The Museum is closed on Mondays and state holidays. The Harn Museum Store is open during museum hours.
Downstairs at the Harn is the Camellia Court Café, a lovely spot for a light lunch or coffee break.
At the other end of the art museum building spectrum, the Morse Museum of American Art in downtown Winter Park occupies a building so bland it could pass for generic office space. Looks are deceiving. The inside is pretty exciting.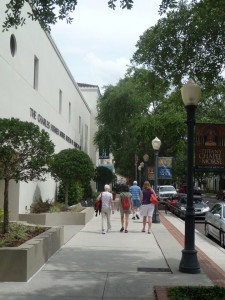 The collection of work by Louis Comfort Tiffany (1848-1933) includes jewelry, paintings, pottery, leaded glass lamps and windows. There is no other Tiffany collection this comprehensive anywhere.
Best of all (in my humble opinion) is the recreation of his chapel interior for the 1893 World Columbian Exposition in Chicago.
Admission varies. Museum hours are 9:30–4:00 Tuesday through Saturday (Open until 8:00 p.m. Friday, November through April and 1:00–4:00 Sunday. Closed Monday and most major holidays
Note: During the month of September holders of Sunrail tickets – show your tickets and get free admission.
There is an air-conditioned Florida art museum near you. Here is Artcyclopedia's list of Florida art museums with both fine art collections and an online presence.
More To Explore
Art and Food Go Together in Puerto Vallarta
Discover Downtown St. Petersburg
Venice is a Vision Worth Visiting