I am delighted to present a guest blogger this month – Barbara Fitos, Executive Director of the Community Foundation for Ocala Marion County. Barbara also has another title: she is Nana to four awesome grandchildren. For her blog she shares lively descriptions of the connections between generations and the joy of the Fitos4 having adventures together in Ocala.
By the way, Barbara makes the best cheese grits this side of paradise. Just thought you should know.

Her dream is to someday have a regular column called "Through Barbara's Eyes".
And so it begins here. Enjoy
SATURDAY MORNING MAGAZINE Guest Blog by Barbara Fitos
Those of us blessed to be grandparents have a special bond …we can share photos and anecdotes endlessly and when a dear friend, colleague or mere acquaintance joyously announces that they are about to become one – we each smile knowingly and say "Just wait!" Perhaps most importantly, we are there to support each other in life's sorrows – illness, separation or loss. It matters not what we are called – I inherited my dear mother's "Nana" title – because we carry that name proudly and whether our grands live in close proximity or hundreds of miles away we as grandparents are linked forever to their lives.
My only son Joseph was raised here in Florida and both sets of his grandparents still resided in my hometown in New Jersey.   Thus time spent with them was precious whether here in Florida celebrating Thanksgiving in shorts – something Nana Rose never adjusted to! – or the Christmas holidays in New Jersey seeing snow for the very first time. Memories and legacies abound.   Some of my fondest memories are of Grandpa Fitos taking long afternoon walks around our neighborhood on a very patient journey of discovery with his two year old grandson…and of course, visits to the iconic Silver Springs.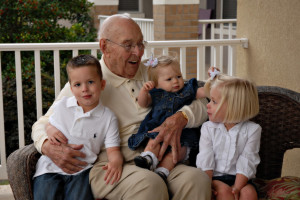 Grandchildren live just an hour away from Ocala
And now my son has blessed me with four wonderful grandchildren who I affectionately call the "Fitos4" – yes I said "only" and "four"!   Further blessings abound in that they reside only a little over an hour from Ocala.   With four in tow, they are obviously an active and busy family.
As such, memory sharing plays an important role in their family tradition-making. The grands, for example, curiously want to know about Daddy as a little boy – "Nana – did Daddy really do….?" Well…
My dear Mother – their great grandmother "Nana Rose" passed away long before the grands were born. My youngest granddaughter came rushing out to meet me during one Sunday dinner visit with a photograph in hand saying – "Look, Nana, do you know who this is?   Daddy found this picture!" It was a photo of my Mother with my son – so very special making the connection that Nana Rose was indeed my Mother! Three of the four grands were blessed to know my Dad – their "PopPop".   He spent the last six years of his life here in FL with all of us – a bridge to the generations…grace abounds!
Mamie & Pop, my son's in-laws and Marah's extended family, are vital in creating family memories – Thanksgiving dinners, a special Christmas Eve celebration. While they reside here in Ocala they have a beautiful home on Lake Ontario in upstate NY – a summer vacation tradition eagerly awaited each year.
Overnights provide unique opportunities for exploring and creating new experiences (although only two of the four at a time – wisely!). All things in NanaB's world belong to NanaB – like the lovely little park across the street.   "Nana, let's go to your park!" Once there, however, the conversation went like this – "Nana, this is a very nice park but it has no swings!" So off we go to explore the park around the corner, complete with swings, slide & monkey bars – better!
Favorite local pastimes in Ocala for Nana and Grandchildren
Favorite local pastimes include visiting Brick City Center for the Arts when dog houses ruled; Downtown Farmers' Market; Christmas on the Square (carriage rides with "real horses, Nana!") .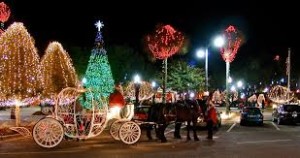 Future planned outings include the labyrinth at Sholom Park; Silver River State Park; Art Camp at the Appleton Museum; Turkey Trot at the Frank DeLuca YMCA (for my "Runner Girl" – taking after her Mom – an accomplished marathon runner).
And this "library lady" would be totally remiss without mentioning books, books and more books.   Books that I cherished when my son was little to be passed on to another generation…Good Night Moon, Pat the Bunny, Where the Wild Things Are, the Best Christmas Pageant Ever…and discovering new finds on trips to the library and bookstores – the favorite to date "The Day the Crayons Quit" – a read aloud-laugh out loud delight.   And my dear friend and brilliant author, Lucy Beebe Tobias' "Mary Margaret Manatee" is a must!
Ocala is the horse capital of the world
And, of course, living in the "Horse Capital of the World" grandparents and grands alike must see and visit some of the amazing farms that surround us. The generosity of spirit of owners and breeders is evident in the open farm policy of many who welcome tours and visitors on a regular basis.   The Founding Chairman of our Community Foundation, Frank Hennessey and his lovely wife, artist Carol Hennessey, are the proud owners of Hennessey Arabians .   Foaling season is not to be missed! And the grands have a standing invitation to come and see up close and first hand this amazing breed.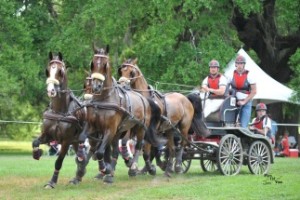 Equestrian events abound throughout the year as well. HITS – Horses in the Sunshine – the annual hunter/jumper winter circuit featured the prestigious World Cup in 2015. The famous Live Oak International that for over twenty years has hosted the premier combined driving event brings equestrians from all over the world to Ocala, FL for this four day event in late March. Ocala's own Florida Horse Park features year round events including polo.   And one unique event perhaps not as well-known is fox hunting. The Perry Plantation in Gainesville, FL is home to Misty Morning Hounds Hunt Club that hosts traditional fox hunts throughout the season (without live foxes – licorice/anise scents are used instead!) complete with traditional attire, the blessing of the hounds and a sumptuous breakfast following the early morning hunt – spectators follow the route in tally-ho wagons.
We as grandparents are privileged to share in the lived lives of our grandchildren and have that rare opportunity to enrich their lives and ours in creating these special memories of beaches and theme parks, sports events, holidays and birthdays… but most especially those unique community places that become the essence of family life…Blessings to all my fellow "G'Mas" and "G'Pas".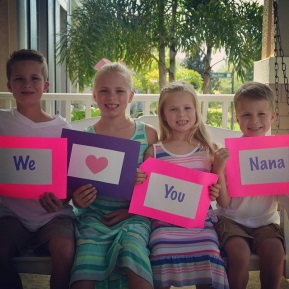 MORE TO EXPLORE
Pet friendly travel with your canine
Knott House Museum and More History