The Old Cedar Key walking tour is on my list of things to do but first we need to check in.
At the Faraway Inn their Office sign is turned to Open. Obi and I step inside.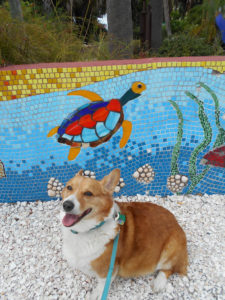 The manager looks up. She immediately nails my dog's number.
"Oh, a Welsh Corgi!
What's your name?
Obi?
Would you like a cookie?"
Would he ever. She gives him three. They bond on the spot.
Forget chocolates on the pillow.
Dog treats rule here.
Both Faraway Inn's architecture and ambiance are throwbacks to the 1950s. Located along the waterfront, the Inn consists of a cluster of small cottages and motel rooms decorated in eclectic beach whimsy and they are dog friendly.
Every guest we meet has a dog or two and everyone walks their dogs. There is even a doggie bag station at Faraway Inn for those who forget to bring the necessities.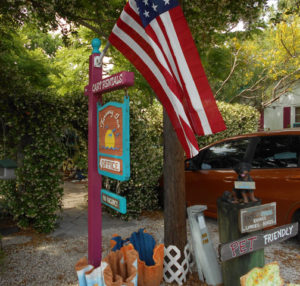 In Cedar Key traffic is so scarce you and your dog could walk in the middle of the street (just saying, not suggesting).
We find early morning and evening strolls are the best. Midday tends to be quite hot, the air still and streets lacking in shade.
Even though sidewalks are scarce Cedar Key is eminently suited for walking. How does such a rare thing – a high walkability index – happen?
Simple. Cedar Key, Florida, sits at the end of a road.
Where State Road 24 ends, Cedar Key begins – a series of inhabited islands butting up against the mangrove- encrusted edges of the Gulf of Mexico.
Traffic that comes here stops here.
If you arrive for a day visit, park, walk along 2nd Street to see the art galleries, shops and studios, then turn down to Dock Street with its restaurants, you will come away with the impression Cedar Key is flat.
Not so. Stay longer. Venture further inland.
Obi and I discover walking around Old Cedar Key (upland from the dock area) involves a series of gently rolling hills. It is intriguing and inviting – what is over the next rise?
An extra added attraction – we stroll past a plethora of historic houses.
Old Cedar Key Walking Tour – get the guide book
If houses with a history tweak your interest, do obtain a copy of the Old Cedar Key Walking Tour Guide Book ($7.50), with 50 places of interest. Each has a photo and explaining paragraphs. The guidebook is for sale at the Cedar Key Historical Society Museum located at 609 Second Street.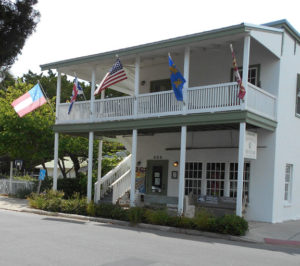 While there pick up a free map of Cedar Key compliments of Kayak Cedar Keys (by the way Kayak Cedar Keys are celebrating their ten-year anniversary and have added paddleboards to their lineup).
The Cedar Key Historical Society Museum is the two-story white building with all the flags, directly across the street from Tony's Seafood Restaurant, famous for its award-winning clam chowder.
Our last visit to Cedar Key was five years ago. Walking around town, the uptick in home and landscape improvement is immediately obvious. Side yards boast well-maintained flower and vegetable gardens. Old houses have new paint.
Speaking of vegetables – on 2nd Street there we find a Community Garden dedicated in 2012, Raised boxes overflow with vegetables, herbs, flowers and tomatoes. It is a lovely sight. Surprising isn't it, how well vegetables grow in salt-tinged air?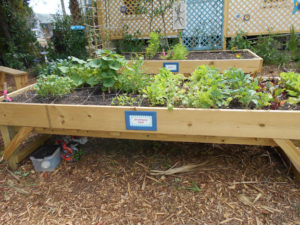 From talk of vegetables we move to talk of dining out and here we are disappointed.
Dock Street, home to restaurants, cafes, bars and grilles is quite run down compared to five years ago.
Several restaurants are closed. Others haven't seen fresh paint in a while. A second-story eatery that gets good reviews is reachable by a flight of stairs – but first there are empty cardboard boxes and trashcans to navigate on the ground floor. Not appetizing.
The Cedar Key Chamber of Commerce has a free Visitor's Guide that includes a dining guide. The free Visitor's Guide is on their Web site and also in paper form at local outlets (like museums).
Those restaurants that are dog friendly (i.e. outside dining) have a paw icon. This is helpful. Obi and I are well taken care of at Big Deck Raw Bar & Grill on Dock Street.
The next morning we have high hopes for a dog-friendly breakfast place on SW State Road 24. Their Web site says they open at 7 a.m. We arrive at 8 a.m., delightfully decadent. But a sign on the door says "New Hours 9-3". Bummer. Why wasn't that on the Web site?
We return again at 9:30 a.m. and it is still closed. Humm. There is Island Time and then there is Why Bother Time.
My hopes for a savory southern breakfast (think shrimp and grits – I saw it on the Web site menu) are dashed.
But life is not all about food (Obi might disagree).
Both location and layout favor Cedar Key as a go to place for outdoor adventures. Come prepared.
Bring comfortable shoes and a wide-brim hat. Take the Old Cedar Key Walking Tour (self-guided).
Bring your bike or rent one (Faraway Inn, for example, has free loaners for guests). Bike Florida named the Town of Cedar Key as one of its Top 10 places to ride. It is easy to agree with that – the lack of traffic and lovely changing views make for a smooth ride. Not to mention all the stops along the way including the Cedar Key Museum State Park and Cedar Key City Park with a small public beach and restrooms.
Kayakers (your own or a rental) have easy nearby destinations such as Atsena Otie Key and Seahorse Key. Go on your own or take a tour. A plus – the Market at Cedar Key on SW State Road 24 is a good place to build your lunch that goes with you in a cooler.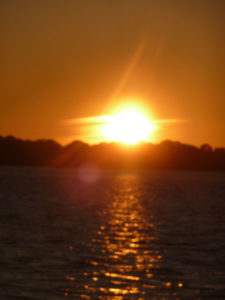 Sunsets over the Gulf of Mexico are a free thrill. They are, of course, weather permitting. Most nights you see them. Some nights the clouds win. Many good viewing places around town including benches facing west, a place to sit, donated in someone's honor. A very nice touch.
And that is a small sampling of things to do, right up to twilight.
Night falls. The fun begins.
Stargazers from around the world are drawn to Cedar Key. The night sky is easy to see.
It is that "end of the road" thing again – remember the small town's location at the end of the road then factor in nearby national refuges – Cedar Key National Wildlife Refuge and Lower Suwannee National Wildlife Refuge (think thousands of acres with no artificial lighting) and conditions are right for the night sky to be highly visible. To know more visit this stargazing Web site.
Let's have a last look at local food – did you know Cedar Key has a reputation as a clam capital? Well earned. Cedar Key is the largest producer of farm-raised clams in Florida. Aquaculture rules here.
On our way out of town I stop at Southern Cross Sea Farms to buy a bag of littleneck clams.
Steamed clams and linguine – it is what's for dinner tonight along with fresh salad from the garden well seasoned with memories of Cedar Key.
MORE TO EXPLORE
Garden statues salute saints and sinners
Key Largo has conch fritters calling your name
Pensacola – dig into the past or soar with angels