Welcome to Peace River Botanical & Sculpture Gardens, a 27-acre site located on both sides of Riverside Drive in Punta Gorda, Florida.
Soaring sculptures and spectacular gardens sit side by side in splendid accord.
As soon as you park and pay admission on the south side, pick up a free brochure and map. Right away you see the Hibiscus Garden, Banyan tree, Cactus Garden and the Staghorn Fern Grotto. Notice the 20-year old staghorn fern weighting nearly 200 pounds. Donated by Joni Thompson of Port Charlotte, it helps answer the question – where are the plants coming from? Some 3500 botanicals are in the ground so far. Many are purchased and also donations of large plants and trees are encouraged.
Peace River Botanical & Sculpture Gardens has its first phases open to the public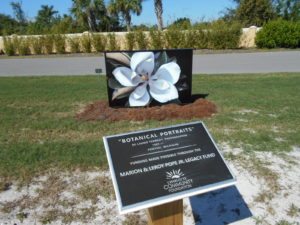 Sitting among the plants are large photos made for outdoor installation by Laurie Tennant, a Michigan artist and photographer. These photos are based on plants found in the Garden and will be on display through March 2018. The photo display was made possible by a grant from the Charlotte Community Foundation.
Keep your day planner open. You'll want to come back here often.
Phases 1 & 2 opened to the public in October 2017. There is more to come, much more, including a new sculpture to be unveiled soon.
"The second week of January, 2018, a new sculpture will be dedicated," said Rev. Bill Klossner, president of the Board of Directors for the Gardens. "We hope it is going to be the "selfie" place where people get their pictures taken."
You notice I didn't name the sculpture. And why is that? I've been sworn to silence. My lips are zipped.
But I can say, once it is unveiled, you are going to love it. Bring family, friends, a cell phone that takes photos, a camera, iPod, whatever works and click away.
Already installed on the grounds are 11 sculptures. Each one has a flair for the dramatic.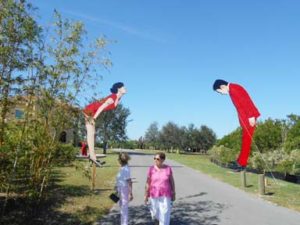 When leaving the south side of the Gardens, crossing the street to the North side of the Gardens the "Ostriches" by Chinese sculptor Yu Zahoyang are your gigantic greeters, standing 20 feet tall and bowing at the waist.
"Steel Palm" a 21,000-pound sculpture by Boston artist Jacob Kulin is both a signature and centerpiece plus being an echo of a logo. A 50-million-year-old stone palm frond fossil is the logo for the non-profit Tetrault Family Foundation and provided the inspiration for "Steel Palm."
Roger and Linda Tetrault, who began and fund the Gardens, have long been thinking big and thinking outside the box.
"This is their life," Klossner said. "They worked in many places, often visited gardens plus they like art. Very few places have both." The Peace River Botanical & Sculpture Gardens does.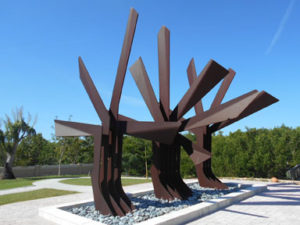 After 10 years of planning the first two phases of the privately run Gardens are done and cover almost 11 acres. Visitors start on the south side and walk to the north side. When complete there acreage comes to 27 acres including 10 acres of waterways, wetlands and marshland plus 17 acres of Gardens. The Tetrault home and art collection are to be added.
"Their home has 200 pieces of art," Klossner said. "The home and art collection will become part of the tour in the future."
Art is acquired is a variety of ways – commissions or items found by the Tetrault family during their travels and also donated.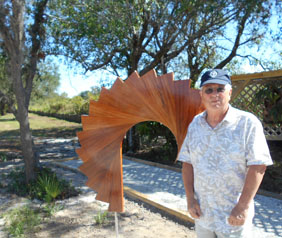 The first donated piece is "The Wave" by Bob Richard. He and his wife are Port Charlotte residents in winter months. His work is displayed in the Gallery Officiel Montratre Paris, France.
"The Wave" is made of African mahogany, stainless steel and white marble.
In a moment of serendipity we were visiting the Gardens on November 8, 2017, the day "The Wave" was installed. Richard and his wife Pauline were standing next the sculpture, all smiles and photographing the piece in place.
Later he sent an Email saying in part: "I must thank both Roger Tetrault and Rev. Bill Klossner for allowing me the privilege of donating one of my artistic works to the Gardens. The addition of this Garden to the City of Punta Gorda is sure to strengthen the artistic and cultural strength of the area."
Peace River Botanical & Sculpture Gardens – a new reason to visit Punda Gorda
Quite so, and for those who are into mindfulness be sure while in the Gardens to take the boardwalk all the way to the Peace River. Along the walkway stop to admire the impressive "Keel" sculpture by Turkish artist Kemal Tufan sits in a wetland area. Made of lava rocks, "Keel" looks like an ancient ship's hull recently excavated from the river depths. In fact it is a sculpture created in Southeast Asia and one of the pieces weights more than 5,000 pounds.
At the end of the boardwalk is a gazebo overlooking the Peace River.
"One of my favorite places is to go to the gazebo overlooking the river," Klossner said.
Indeed. I can see why.
I give this gazebo overlook a five-star rating as a Brown Bag Place – come here to de stress, meditate, maybe bring a brown bag lunch, a sketchbook, a journal – a pair of binoculars to watch wildlife – you get the idea.
FAST FACTS
What: Peace River Botanical & Sculpture Gardens
Where: 5800 Riverside Drive, Punta Gorda, Fl.
Phone: 941-621-8299
Hours: Tuesday through Sunday 10 a.m. to 5 p.m.
Email: [email protected]
Admission: Single Day – ages five and under free. Students trough high school $8, Adults $12 and Seniors (65 and up $10
Good to know: Walkways are wheelchair/walker accessible. If walking comfortable shoes are a plus along with sunglasses and a hat.
New Year's Resolution
Get on board. Resolve to Like/Follow the Facebook page "Labyrinth of the Week" where you can keep up with posts on labyrinths around Florida as Lucy Tobias researches her upcoming book Circling the Center: the Labyrinth Trail in Florida publication date: September 1, 2018
More to Explore
Florida Lighthouses Welcome Visitors
A Taste of Cuba in Historic Ybor City