Making mosaics is easy and fun in Barcelona, Spain. Come with me and I'll show you how.
Today I'm taking a two-hour mosaic class at Livia Garreta's studio. My plan: make a mosaic I can bring home in my suitcase.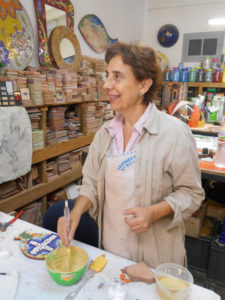 Livia finds herself busy with commissions and classes. A mosaic artist for 30 years, she opens a scrapbook of her work and says:
"I paint in stone. What I make lasts for all eternity."
Wow. Double wow. I'm in the right place.
Livia writes the word trencadis in my reporter's notebook.
Trencadis is Spanish for "broken glass". She has a lot of it. Floor to ceiling shelves are crammed with jars of glass pieces in every color of the spectrum along with uncut tiles, smashed pottery, round stones separated by color, terra cotta, old plates – if it can be broken it can be used. Big smashed pieces, little pieces – take your pick.
Antoni Gaudi (1852-1926) was and still is so famous in Barcelona it feels like the very air in the city breathes his name. He used the special mosaic style of trencadis to decorate benches, wrap around columns – no surface was safe from him.
Perhaps he spent evenings drinking wine then smashing the bottles for making mosaics. Not hard to imagine since Salvador Dali was in Barcelona at the same time, painting away in shocking originality. So can you say party time?
For Gaudi inspiration, seeing his lines and curves and daring to go where no one else has gone before (sound familiar?) go to the soaring tourist magnet called Sagrada Familia – a banner inside says "2026" the year they expect to have the church finished and 100 years since Gaudi died.
Then take in Casa Mila and Park Guell.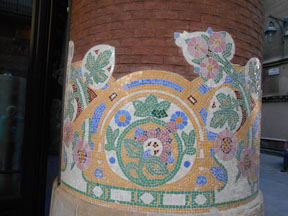 These structures are parts of the Barcelona Modernisme movement, builders with unbridled creativity that included Guadi, Lluis Domenech I Montaner and Josep Puig I Cadafalch.
Seeing their playful buildings, like Paleu de la Musica Catalana by Lluis Dorneneh I Montaner, will put a lilt to your steps, make you glad you are in Barcelona and maybe inspire you to take a mosaic class.
There are several options for a mosaic class in Barcelona. I chose my class based on my free time during my stay and it turned out wonderfully well.
I booked it through Nicole at Arty in the City (Barcelona) – Tours & Workshops or you can book through Livia's Web site. Have a look at the mosaics pictured on her Web page.
A two-hour class with Livia, who speaks English, costs 45 Euros, all materials are included.
Livia sits me down at a long table covered with butcher paper and cluttered with bowls of broken pieces. Other folks at the table are already at work. Two are regulars who come Monday of every week, making mosaics and chatting with each other in Spanish.
Also here is a couple from California who took a two-hour class yesterday, didn't finish their pieces (a fish and a square tile shape) and came back today.
Livia offers me an assortment of small (about 12 inches long and 6 to12 inches high) pre-cut thin wood shapes. I pick something vaguely rolling, like ocean water. Naturally blues and greens are my first choices of broken pieces to glue down.
You do not have to know anything about mosaics to be here. She provides everything – the base piece, glue to attach pieces, broken glass, the grout and instructions along the way.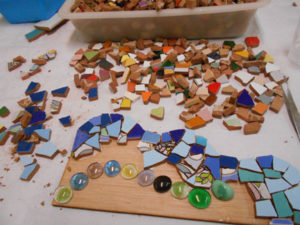 This isn't my first mosaic rodeo but I want to cut loose and do something free form for a change, Gaudiesque, if you will. Why not? I'm in Barcelona. Just being here is inspiring.
She stops by, sees where I am headed with the pieces I've glued down and says:
"You are an artist."
It is not a question.
Feels good to answer "yes". All those years of art on the side and now at least for today, the artist is front and center.
Livia rummages around in various jars and comes back with offerings. Glass beads. Perfect. Pottery pieces show up from a plate with interesting designs. Excellent.
I'm glad my base is small and I'm moving along with the layout. Grout comes in many colors, your pick. The grout isn't dry when I get ready to leave but Livia puts the piece in a plastic bag. It easily dries in 24 hours.
As everyone leaves she gives us hugs.
Her studio is at Carrer de Pere Serafi 31, behind the green door and close to the Fontana metro station (green line).
I'd go back for another class in a heartbeat.
To celebrate making a mosaic I now head for Cerveseria Catalana, a well known tapas bar at Carrer de Mallora, 236.
Vivian Tavares, our tour guide for the Barcelona part of a Grand Circle Travel trip, pointed Catalana out to us. Some of us went once for dinner and just kept going back, any meal will do. It is that good.
It is lunchtime and singles like me fill up the bar stools. Others stand behind waiting for tables or even taking tapas orders passed over our shoulders. Tapas keep coming. Conversations are all in Spanish, high energy, infectious.
I'm smiling. I'm in Barcelona. There is a piece of original artwork in my lap. Oh and did I mention this is my birthday?
It does not get any better than this.