Naples on the West Coast of Florida has a hot and heavy love affair going on with outdoor Farmers Markets.
Seven different Farmers Markets, yes seven, strut their stuff on different days of the week during the season (November through April) and some are year round.
You will find the day of the week each Farmers Market is open highlighted in bold for your easy reference.
Naples Farmers Market in the shade
The most shade-filled Naples market has to be St. John Farmers Market in the large, tree-lined parking lot of St. John the Evangelist Church in North Naples. The Market is open on Fridays from 9 a.m. to 2 p.m. from October through April. Address: 625 111th Ave. North, Naples FL 34108.
About 40 vendors with local produce (much from the nearby farming community of Immokakee), local artists, handmade jewelry, beach gifts, even whole sugar cane for sale. Habla Espanol? Spanish is spoken here.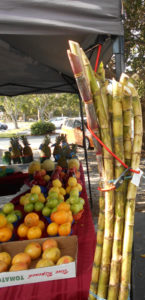 Naples Farmers Markets enrich the local economy
Did you know 70 percent of money you spent at Farmers Markets stays in the local community? With that goal in mind, and using vendors' fees for mission work, the Community Congregational Farmers Market happens on Tuesdays from 9 a.m. to 2 p.m. October through April. Again around 40 vendors.
You guessed right, this one is also on church grounds at 15300 Tamiami Trail North, Naples 34110, on US 41 north of Wiggins Pass.
Every Saturday morning a decades-old tradition, much beloved, takes place in downtown Naples – the Third Street Farmers Market. In fact, this was the very first Naples Farmers Market, started by Tony Ridgeway 22 years ago.
From November 19 through April 29 the Farmers Market is located between Broad Avenue South and 13th Avenue South, and Third Street is blocked off for the market. From May through November the Market flourishes in the parking lot behind Tommy Bahama.
Third Street has a great rep as a shopping destination, so the Market is an added bonus  when you visit on a Saturday.
Third Street Farmers Market foodie alert – freshly made crepes and freshly brewed coffee usually available here, good way to start the day.
Naples Farmers Market receives high marks
In 2016 Third Street Farmers Market was ranked 99 out of 101 best markets in America by The Daily Meal, a Website concerning all things food and drink.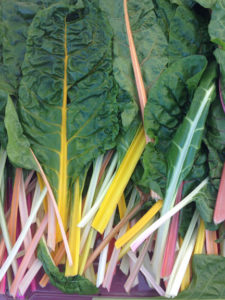 Sundays from 9 a.m. to 2 p.m. the Pine Ridge Road Farmers Market takes place at the Marquesa Shopping Plaza, 3370 Pine Ridge Road, the corner of Pine Ridge and Livingston. Look for local produce, fair trade products and an added plus – pets are welcome here. Opens late October, no close date given – call (239) 200-4401 or E mail: [email protected]
Need to go to Bed Bath & Beyond? You can do that in Naples and go to a Farmers Market too – Saturdays starting in November (no end date given) from 8 a.m. to 1 p.m. the Saturday Farmers Market at Bed Bath & Beyond
Located at 5351 Airport Pulling Road, Naples in the Ridgeport Plaza.
Sometimes labeled "the best Saturday Farmers Market in North Naples" the Shoppes at Vanderbilt Farmers Market takes place, yep, on Saturdays from mid-October through May. Over 80 vendors, with local fruits, vegetables and crafts for starters. Hours are 8 a.m. to 1 p.m. Address: 2355 Vanderbilt Beach Road, Naples, FL
The storefront called Neighborhood Organics is the storefront for the Farmers Market and a big supporter of local business.
Goodlette Frank Farmers Market, open on Saturdays from 8 a.m. to 1 p.m. during the season from November to May is a mission outreach of North Naples United Methodist Church, Local produce along with handmade items, arts and crafts.
UPCOMING BOOK EVENT
Saturday, Jan. 21 from 9:30 a.m. to 1 p.m. I'll be outside Parkers Books. 1488 Main Street, Sarasota sitting at a small round table, wearing a funky straw hat and I'll have all my various books for sale. Come check out my children's book, now in Spanish! This event coincides with the Downtown Saturday Market on Lemon, so have fun at the Market and stop by for a hug – or two. See you there!
MORE TO EXPLORE
Fernandina Beach sings a beach song
Venice is a vision worth visiting
Making mosaics in Barcelona, Spain