What would outdoor Florida be without wading along the shoreline, swimming, tubing, snorkeling, diving, kayaking, boating and fishing?
Definitely a sorry place indeed – I honestly wonder how many of us would stick around without all these wonderful wet places we take for granted.
Fortunately for visitors and residents alike, aquatic preserves, the Florida Springs initiative, the Florida Keys National Marine Sanctuary, Coral Reef Conservation all ensure these ecosystems will be around for a long time, thank goodness.
Let's explore a bit of what we take for granted – Florida's outdoor coolest spots.
Floating over Another World in Florida's Outdoor Coolest Spots
A small group of us took up the offer to go on a free snorkeling trip to explore the estuarine world of Gasparilla Sound-Charlotte Harbor Aquatic Preserve in Southwest Florida near Punta Gorda and Placida.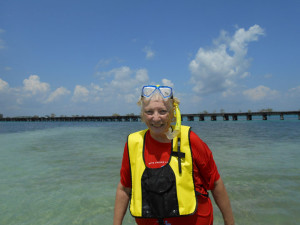 Off we go on a pontoon boat. Even non-swimmers felt comfortable about getting wet. The water depth was, at most, four feet so it was easy to stand up at any time.
What a difference a mask and snorkel make! I float along, hands loose at my sides, looking down at swaying clumps of sea grass. Schools of little fish dart back and forth. A young grouper goes by giving me the eye but moving on quickly. I'm in their water world now – a visitor in a foreign land and it is fascinating.
I stand up with reluctance. Our two hours are up. Bummer. I promise myself I'll be back.
In the upper Florida Keys
at Key Largo is John Pennekamp Coral Reef State Park. Land sits next to water with its living communities of protected coral reefs. Naturally, snorkeling tours are immensely popular. Make reservations at (305) 451-6300. The two and a half hour tour take you out by pontoon boat. You are in the water for an hour to an hour and a half. Bring gear or rent equipment there (prices on Web site). Snorkeling tour fee is $29.95 for an adult, $24.95 for children under 18.
Springs Bubble with Blue Beauty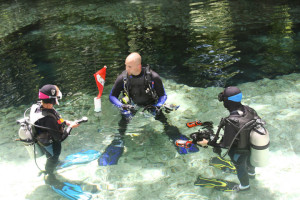 Forty-four parks, mostly in Central and North Florida, have accessible springs – get wet, canoe, bring a picnic lunch, dive, even float on an inner tube, carried by the current on clear blue water. Some samples: Ginnie Springs Outdoors near High Springs. Ichetucknee Springs State Park where tubing down the river carries on as a family tradition over the generations and Crystal River National Wildlife Refuge, the last undeveloped habitat in Kings Bay with 30 known springs. This is a refuge for West Indian manatees.
Water trails in Florida are called blue highways. They meander through mangrove, down rivers, along the coast, paddling can be very addictive – and for the super serious there is the CT, the Florida Circumnavigational Saltwater Paddling Trail. It is the longest saltwater paddling trail in the continental United States. The keeper of all things related to Florida paddling is the Florida Paddling Trails Association.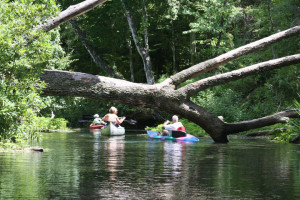 For a truly other world experience, join A Day Away Kayak Tours for a black night/cold light bioluminescent night tour in the Indian River Lagoon. Bioluminescent season started in June and continues until October. See their calendar to know when the black nights (no moon) times are. Prices vary by weekday/weekend and whether you bring your own boat or use theirs. To know more call (321) 268-2655. No need to be a kayak expert – they'll have you gliding along in no time.
Three of us went on this tour, leaving from the Haulover Canal Launch Site 20 minutes east of Titusville We pushed off at sunset stopping first in an area known for manatee sightings (not that night) then lazily making our way to the Lagoon. Now it is dark, pitch dark. I dip my paddle in the water and a trail of silver follows the paddle. A mullet swims by trailing bioluminescent in its wake. No one really knows what causes millions of tiny organisms in the water to light up when the water is disturbed and it only happens in certain months.
Overhead the sky is a huge inverted black bowl filled with stars. We rest our paddles
. It is utterly silent and so beautiful it takes my breath away. Pictures? No. I didn't even try.
This is one of those "you have to be there" experiences.
Florida's outdoor coolest spots are waiting for  you – just do it!
MORE TO EXPLORE
Discover Downtown St. Petersburg
Mount Up – Horseback Riding in Florida