You can save the world.
Right now. Today.
Well, all right, a piece of the world.
How? Buy milkweed.
Seriously. I'm not kidding.
Monarch butterflies need milkweed as host plants. They lay eggs on milkweed, caterpillars emerge, eat leaves then become new butterflies.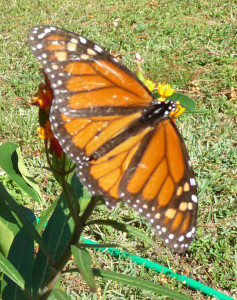 BUT monarchs are not finding milkweed. They die without reproducing. A few years ago it was fashionable for some writers to say "don't mess with monarchs, don't plant milkweed, let them do what they always do and fly to Mexico".  Wrong.
The monarch you saw in your back yard isn't the monarch that ends up in an annual visit to Mexico – it takes generations of monarchs to get there and so, along the way, THEY NEED MILKWEED to lay their eggs.
So, why is this a crisis? The numbers of monarchs going to Mexico dropped from 60 million to 3 million this year. Does that set off alarm bells? It should. In my humble opinion if monarchs stay around here all year, that is not a bad thing, that is called adaptation – and they survive.
Here are two milkweed stories – one from my gardening book and one from Master Gardener Sandy Huff. Read. Be inspired. Save the world today. Buy milkweed.
CH. 10 from "Florida Gardens Gone Wild" by Lucy Beebe Tobias
My Milkweed Crisis in the Back Yard
            Holy cow! I've got a crisis! Monarch caterpillars have chomped through all the leaves on the mildewed plants and they are still hungry and growing. The very last milkweed with any leaves has five caterpillars and only TWO leaves left. Help!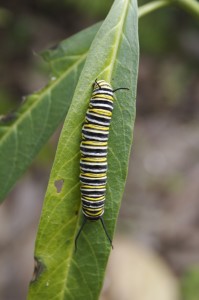 Will the caterpillars die and never turn into butterflies if they don't get more milkweed leaves to eat?
I don't know the answer but I'm in a panic. The numbers don't look good. Rushing to my closest big box store I search in vain for milkweed.
"No, we don't have any," a clerk announces, her voice bored and uninterested. I'm sure my crisis is comedy to her. Next I phone Taylor Gardens Nursery in Citra.
Guda tells me she has a few pots of milkweed left. I drive almost a half hour to Taylors then buy five pots, one for each caterpillar.
Monarchs and milkweed go together like bacon and eggs. They need each other. While some flowers supply nectar for butterflies, each species has its own host plant that it must find to lay its eggs. And milkweed has a beautiful spray of small orange and yellow flowers, making it a delightful addition to gardens.
Eggs hatch on the milkweed, caterpillar emerge and eat and eat. Next metamorphosis happens they reinvent themselves, emerging as beautiful flying color canvases.
I hurried home, grabbed a shovel and planted milkweed along the fence line. Each caterpillar was placed on its own milkweed plant. All began eating leaves immediately. Crisis solved!
Yes, I know, my crisis is not on the same level as bringing democracy to Egypt, solving the economic crisis or bringing our troops home from Iraq but somehow making a difference in my back yard makes a difference.
You have got to start somewhere.
DIGGING IT
Your Mission: There is a national shortage of milkweed. It used to grow wild along roadsides but spraying and deep cutting has eliminated that source. Plant milkweed. Encourage your local parks and governments to do the same.
Resource: The Live Monarch Foundation (www.livemonarch.org)  seeks to grow milkweed in every back yard. Get free seeds by sending a stamped, self-addressed envelope (with a suggested donation of $2) to Live Monarch Foundation- Seeds, 3003-C8 Yamato Road, Boca Raton, Florida, 33434. Plant milkweed in the early spring.
Right now: Adopt a butterfly online at the Live Monarch Foundation (www.livemonarch.com/adopt.htm), give your butterfly a name, you get a visual update every few days for 30 days as your butterfly grows, the last day when it emerges is amazing. This is a free educational experience, good for all ages. Great to do with grandchildren.
 Florida Favorites: In my travels I meet marvelous people in Florida – people who care about their adopted or native land, sea, water and sky. Folks who love to share their knowledge and hopefully, save paradise for the future. Sandy Huff, master gardener in Safety Harbor, is one of those people. Here she talks about monarch butterflies:
Finding Monarch Butterflies  in Central Florida
By Sandy Huff, Pinellas County Master Gardener
If you plant milkweed, expect it be eaten.  Hope it will be eaten.  That's why you plant it.
The official landscaper for our little town of Safety Harbor has done a wonderful job of selecting plants in our new Mullet Creek park.  But she didn't quite get the milkweed mantra, She tsk'd tsk'd at the bare, stripped stalks of milkweed in one patch.   "These just aren't doing well,"  she said.  "I guess we'll have to plant something else."
Five avid gardeners standing around her went berserk. They recited the milkweed mantra:
"NO!  Bare stalks are GOOD!  Bare stalks mean that Monarch caterpillars were here.  Bare stalks mean the plants are a huge success.  The leaves will come back in two weeks…"
Sadly, milkweed plants haven't been eaten much this year.
Nobody knows exactly why, but 2013 has been a terrible year for our Monarchs.  I only saw caterpillars in the fall, and hastened to add more host and nectar plants to help the few survivors reproduce successfully.
Here are a few milkweed tips from an avid butterfly gardener.
Plant LOTS of milkweed.  One expert estimates that one caterpillar can go through THREE plants.  And, of course, rarely does one plant get just a single gnawer.  Mother monarch butterflies lay their eggs on the  leaves they can reach.  Can reach is the operative phrase.  Butterflies will not worm their way inside a tangle shrub – that's too dangerous for them.  They'll lay on exposed leaves, where they can hover, wings flapping, while they carefully deposit each egg on the tiniest new leaves available.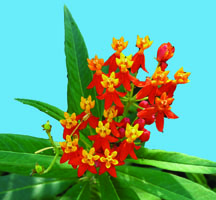 I like to set my milkweed plants behind red pentas (brilliant color, plus nectar), and in front of taller blue or pink Porterweed (blooms open daily on tall stalks that stand high above the foliage, so you can see the feeding butterflies).  Having both nectar and host plants in one bed keeps the adult butterflies around, so I can watch them.
Stripped milkweed stalks will burst out in new leaves quickly.  If you must prune them, wait for cold weather, like February.  Only take away a third of each plant at a time, and cut just above a joint.
Aphids also love milkweed.  If you see orangey-yellow clumps of these tiny insects on your plants, just put on gloves or use a tissue, and gently squish them.  Dead aphids don't come back to life.  Look closely to make sure you aren't disturbing just-hatched cats, or their pearly-white eggs attached to the underside of leaves.  If you don't get every aphid, it's OK.  The plants will make it anyway.
I check my plants daily, and often find one or two hungry cats stranded on a bare stalk, with a clump of edible leaves growing just out of their reach.  So I either use a twisty tie to hold the stalks together, or move the cats.
There's a trick to moving caterpillars.  If the caterpillar is moving, it's OK to pick it up. If it's hanging head down (the long antenna end), watch it for a moment.  Tickle its bottom (the short antennae end).  If it refuses to budge, it has planted its feet and is getting ready to molt into its next instar.  Pulling it off the stem now will kill it.
Once you have one of these tiny soft creatures in your hand, put it up against an edible leaf.  You'll almost hear it yell "Lunch!" as it gallops onto its new dining room.
Caterpillars go through five instars, getting bigger with each molt.  Expect your big caterpillars to suddenly vanish.  Look around, and you'll see each gold-spotted,  leaf-green chrysalis suspended somewhere nearby – under a bush, on a wall, even hanging from a left-out garden tool.
Keep watching.  In a few days, the chrysalis will be a dry husk, and a brand new Monarch butterfly will be fluttering around your milkweed.   Hopefully there will be enough milkweed leaves to feed her next generation.
Just to be sure, plant some more.
For more information, try http://monarchwatch.org
Here's a list of caterpillar host plants:  http://en.wikipedia.org/wiki/Monarch_butterfly#Host_plants
If you can't decide which milkweeds to plant, take whatever your local nursery is offering. And save the seeds before they float away on their dainty parachutes.
MORE TO EXPLORE
Taking the winding road to a botanical garden