My dogs like walking the Sand Hill Trail at Silver Springs State Park in Ocala. Often we're the first ones walking the leaf-strewn path and that means our chances of seeing wildlife are pretty good.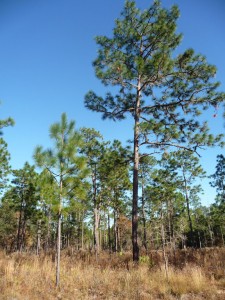 A fact of life – the first one down the trail sees the wildlife, which promptly vanish now that humans have arrived. People who come along later are left saying "What? Did someone see something? What?"
One early morning we saw something quite wonderful – three white-tailed deer came out of the woods about 50 feet ahead of us.
Here's what happened next: All three bounded into the air at the same time, legs bent, their white tails flashing straight up. With that leap in unison they looked just like Lipizzaner Stallions. Running for a few steps, they crossed the trail and leaped up into the air again all at the same time. I'm thinking they had secret walkie-talkies tucked somewhere and a director giving dance directions.
My dogs sat down to watch the show. The three deer leaped again in unison and disappeared into the trees. I felt like clapping.
Take a walk on the wild side in a Florida forest
It was a "you had to have been there" moment. You only get those moments by venturing into the trees, walking trails in the woods, hanging out in wildlife habitat.
A walk in Silver River State Park can be found in Chapter 26 "Two Rivers Run Through It" in my guide book "50 Great Walks in Florida."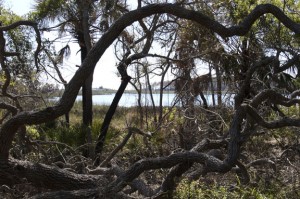 There are plenty of opportunities to go where the trees are. Florida has 35 state forests , 151 state parks, 11 national parks, 28 national wildlife refuges and three national forests ( Ocala, Apalachicola and Osceola). Add to this city and county parks, Greenways, plus the Florida Trail and the possibilities get really interesting.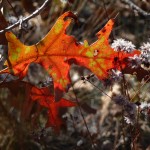 Right now forests are in winter mode. Leafy trees are pretty bare, their naked branches opening up sky vistas not seen before. Some late fall color shows in the leaves fallen to the ground.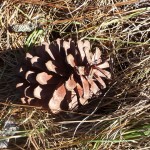 Pine cones are scattered everywhere. Pine trees show off green needles against a cloudless blue winter sky. A breeze kicks up. Late fall leaves spiral down to the ground. We walk on a carpet of pine needles and leaves.
Ah, big plus coming up – the cooler weather means no deer flies and no mosquitoes. No bugs? That is a reason to lace up your walking shoes and get going.
One warning – national forests and conservation areas allow hunting in certain areas in winter months, always check their Web sites or phone before you go. I do not advise walking in any area open to hunting.
The dogs and I walk all seasons of the year. It never fails to surprise me that you can get just a short way down a forest trail and the thickness of trees blocks out the city sounds of traffic. So quiet at first then the forest sounds take over.
I've come to appreciate that forests are a huge part of this simple statement – everything is connected.
At Silver River State Park, for example, all of the park, and the land on which we walk, is a water recharge area for the Silver River. In Ocala National Forest the "jewels of the Ocala" – Alexander Springs, Juniper Springs, Salt Springs and Silver Glen Springs are vital natural resources protected by being part of a national forest.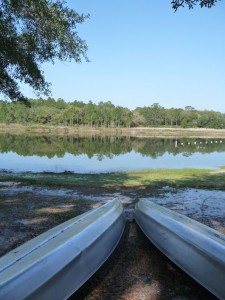 Forests are diverse ecosystems with diverse recreational activities. Walk, bike, use the OHV trail system, go where there are horse trails, take a canoe to the water's edge and start paddling, swim, camp, scuba dive, snorkel, picnic, bring your paint box and paint a stately oak tree, fish, sit quietly and commune with nature. Pick one or more.
Whew! What a great way to start 2012.
Florida Favorites
In my Florida travels I meet fantastic people who are travel writers, residents, newcomers, guides and entrepreneurs, all are digging into the Florida places they love and finding treasures worth keeping. Here is Joan Landis, a Florida Audubon member who is just starting out her writing career. Her bio is below with an e-mail address to comment on her contribution to this month's forest theme:
About Joan:
Joan Landis grew up in Texas spending summers fishing in South Padre Island, exploring the seashore and imagining the adventures the sea and world would bring her. Her career in sales brought much travel and new trails to explore. Fishing, Scuba Diving, Hiking and now Birding, Joan has spent her life enjoying nature and learning from it. Joan has experienced a wide variety of wilderness habitats from living in the Florida Keys to the Inside passage of Alaska. While living in Juneau, Alaska she joined the sisterhood of "Becoming an Outdoors Woman" learning skills that led to wonderful adventures and people that will be forever friends. Camping has been one of her passions and over the years, she has taken multi-day trips in the Alaskan back country where there are more bears than people and paddling trips through the 10,000 islands in the Everglades. Along the way discovering, experiencing and meeting some of the most interesting people and places one can only imagine. Joan's passion for the wilderness and conservation has been a thread throughout her life and now she's sharing some of her wonderful and life-changing experiences. You can reach Joan at: [email protected]

A Symphony in a Florida Forest

Tourists swarm like mosquitoes come January in the Everglades. Craving relief, I decided to try the Pineland Trail. As soon as I ducked through the big gate, I knew I'd found my sanctuary.
I was overtaken by the silence of the woods. An old logging road jutted through the forest, barely visible under a thick carpet of pine needles. The brown needles muted my footfalls and provided a dramatic contrast to the riot of green under story and the tops of the slash pines above. Through the open canopy, I could see the sky gathering clouds.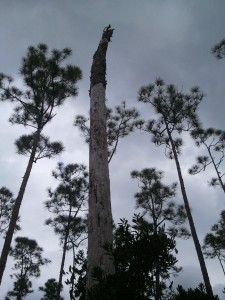 A few steps in, I entered the world of the forest and the outside world disappeared. Seemingly silent at first, I soon became aware of my surroundings and began to hear the woodland sounds. A giant striped dragonfly skimmed right in front of me, its wings softly fluttering as it worked the tall grasses. The sound of its wings was rhythmic. A crunch and rustle got my attention next and I followed the sound to a small squirrel darting across the forest floor. As it raced away, the skittering sound faded and created a backdrop to the cadence of the dragonfly wings.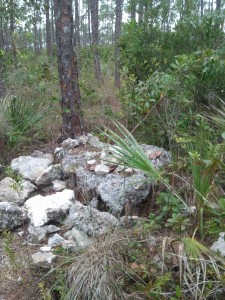 Each step further into the forest, I heard more of the melody the forest played for me. The raspy sound of leaves moving across a limestone formation introduced another layer to the riff. Studying its ancient fissures, I wondered what might live there now when so long ago this rock was caressed by the Atlantic. Mesmerized, I stepped further into the enchanted forest.
I saw a standing dead tree and the forest symphony grew louder as it played back the cacophony of a ravaging lightning fire that ripped its bark and threw it in chunks to the ground, gnarling its crown. The rattle of wind through a stand of pines that were leaning but not toppled lent percussion to the verse describing Hurricane Wilma's blustery visit.
The sounds that the forest gave up were its signature opus. The symphony I heard that day had been evolving over eons, with all the changes in the forest both subtle and grand tuning and refining its chorus. No two-day's songs are ever the same. So the next time you're looking for a retreat, go out and listen to the sounds of the forest. It will play for you its newest notes.
UPCOMING IN JANUARY
Jan. 13-15 – Eighth annual Southwest Florida Nature Festival
Jan. 13-15 – 35th annual Art Deco Weekend, Miami. Read about taking an Art Deco walk in North Miami Beach in Chapter 44 "The Delight of Deco" in my book "50 Great Walks in Florida" available on my Web site.
Jan. 14 – Edison Day of Discovery 10 a.m. to 4 p.m. Florida Gulf Coast University, free, Fort Myers
Jan. 28 – Gasparilla Pirate Festival, Tampa

MORE TO EXPLORE
Sholom Park in Ocala has peaceful paths
Tarpon Springs gives a taste of Greek life