This is a test:
Ever heard of Don Pedro Island, Klondike Beach or Sombrero Beach ? Hands up for Yes. My hands are down. All new to me! Florida native David McRee, aka The Beach Hunter, is our guest blogger this month with his second installment of five barefoot-worthy beaches in Florida you might not know about.
School is out. Officially summer has started. Off the beaten path beaches are calling your name. Here we go . .
Don Pedro Island, Klondike Beach and three more you may not know
By David McRee
In an earlier article we looked at five Florida beaches you've probably never heard of. I hope you found some beaches in that list that piqued your interest.
Now I've got five more. If you prefer to avoid traveling with the herd, you'll be happy to learn about the following Florida beaches still off the beaten path, but fairly easily accessible to the public. But don't tell anyone.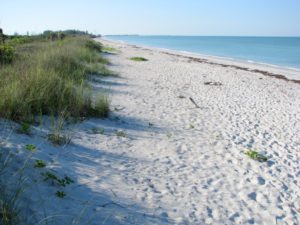 Palm Island is an archipelago of four interconnected islands north of Boca Grande in the Gulf of Mexico: Knight Island (aka Palm Island), Thornton Key (no beaches), Don Pedro Island (also has a state park), and Little Gasparilla Island (Wow!). These islands are accessible only by boat. The Palm Island Transit Company provides a ferry service to the Palm Island Resort, and to part of Don Pedro (but not to the state park). The islands offer seven miles of uncrowded beaches, excellent beachcombing, and plenty of peace and quiet. There are no stores on the islands except for the restaurant and shop in the Palm Island resort. Golf carts are the main method of transportation. The best way to see the islands is to book a rental, but Don Pedro Island State Park is great for day visitors.
Guana River Beach is part of a National Marine Reserve, which means there's plenty of pristine nature to be enjoyed. It's located between St. Augustine and Jacksonville on the Atlantic Ocean along a nine-mile stretch of completely undeveloped ocean beach. Three parking lots with accompanying boardwalks make beach access easy. The dunes at Guana River Beach are some of the tallest you'll encounter anywhere in Florida, and the view from the top of the dunes is incredible. It's one of the most scenic spots in all of Florida. Maybe you'll even spot an endangered Right Whale!
Guana Beach Access Information
Klondike Beach is the most remote part of the twenty-four mile long beach known as Canaveral National Seashore. Klondike is the twelve mile stretch of completely undeveloped beach between New Smyrna's Apollo Beach and Cape Canaveral's famous Playalinda Beach. Access Klondike Beach from the southernmost parking area of Apollo Beach, or from the northernmost parking area of Playalinda. Klondike has no facilities of any kind. It's a wilderness experience. Before doing any serious exploring of the Klondike Beach area, check with the park service—you may need a backcountry permit. The beach is absolutely pristine and undeveloped. You want quiet? You've got it at Klondike Beach.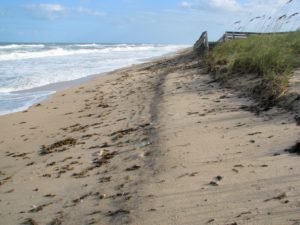 Sombrero Beach is my favorite beach in the Florida Keys. You'll find it in the City of Marathon, about halfway to Key West. Although it has full facilities and is a popular local beach, most folks from outside of south Florida have never heard of it. Most people who come to Marathon are here for fishing or diving, so while they are out in their boat, you can hit the beach. Sombrero is a crescent-shaped beach of white coral sands fringed with coconut palms. It's the perfect spot to get that truly tropical beach feel without going all the way to Key West. And, unlike many beaches in the Florida Keys, the water at Sombrero is deep enough to swim.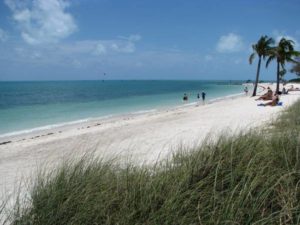 Sombrero Beach Access Information
Anclote Key (Anclote rhymes with "boat"; the "e" is silent) is one of those few islands close to densely populated cities that has entirely escaped the bulldozer. The island is now protected as a state park. It has one full-time ranger, a lighthouse, and offers primitive camping on the north end. Four miles off the coast of Dunedin and Tarpon Springs, Anclote Key can be reached only by boat. It is within kayaking distance of the mainland. Most visitors to Anclote Key arrive by their own private boat or by tour boats operating from the sponge docks of Tarpon Springs.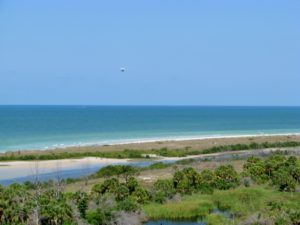 Anclote Key State Park Access Information
MORE TO EXPLORE
The coolest places to be in summer