Levees are elevated structures built by U.S. Army Corps of Engineers to impound and hold back high water.
Building levees causes "unintended consequences" as they like to say in political speak. The "unintended consequences" in this case turn out to be good for you and me.
Levees are elevated walkways with great sight lines
Consider the levee – lots of dirt piled at least six feet high and oh, say eight feet wide or more. The top of the level is flat.
There it is, the "unintended consequence" – turns out that flat, high surface is a great place to walk or ride bikes or watch birds.
Birders love levees because the sight lines are so great. Winter birds come to hang out in the waters impounded by levees. Birders use levees as their own elevated viewing platform, at least six feet about the water.
In the wintertime at St. Marks National Wildlife Refuge south of Tallahassee, drive down Lighthouse Road and see all the birding scopes set up on tripods along the levees.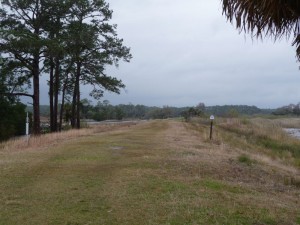 St. Marks is a classic levee story. Walk down the Mounds Trail (chapter 7 in my book "50 Great Walks in Florida") and find Marker No. 2. It is on a tree, about five feet up, showing how high the water rose on Sept. 13, 1843. The Hurricane of 1843 wiped out the nearby towns of St. Marks River, Magnolia, Rock Haven and Port Leon. Today the refuge has a LOT of levees.
A specially designated levee trail starts at the end of Lighthouse Road. It is one-half mile long, with free leaflets at the start. Travel the trail on foot, on bike or by horseback.
Walkers like me like levees because I don't like surprises, say wildlife crossing the road or a snake sunning itself. I prefer my wildlife viewing from a distance and distance (good sight lines) is exactly what you have on levees.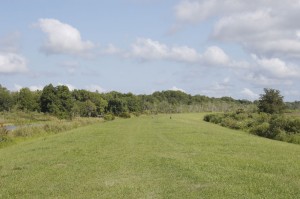 At Sunnyhill Restoration Area, St. Johns River Water Management District, located in southeast Marion County, sandhill cranes may join you on your levee walk. That happened to me. Their attitude was "What took you so long? We've been expecting you." And so we walked together. Sandhill cranes like this area and tend to stay year round. Ch. 28 in 50 Great Walks is titled "Walking with Friends" about the Sunnyhill Restoration Area.
Levees are kept mowed and offer no shade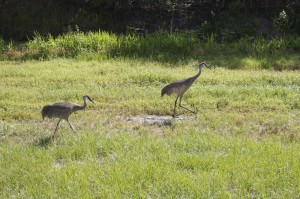 There is one down side to levees – no shade. The tops are mowed. No trees grow here.
That said, now you know to bring a hat with a wide brim and carry lots of water for your levee walk.
Another good place for levee walking is Arthur R. Loxahatchee National Wildlife Refuge in Boynton Beach. This area is also a gateway for the Great Florida Birding Trail.
The big daddy of levee walks in Florida is the Lake Okeechobee Scenic Trail with the unfortunate acronym of LOST. Some 113 miles of LOST encircle Lake Okeechobee with gaps where the walker has to come down from the levee, and then get back up at a later point.
This levee is along the 35-foot high Herbert Hoover Dike. Surfaces are crushed gravel, some paved asphalt.
Once a year the Loxahatchee Chapter of the Florida Trail Association hosts the Big O Hike, a week of going around the lake. This year's dates are Nov. 20-28, 2010.
Springtime is the perfect time for walking levees – cool, sunlit days with lots of breezes and no bugs or humidity. See you on the levee.
©2010 Lucy Beebe Tobias, all rights reserved
More to Explore
Art and food go together in Puerto Vallarta
DeLeon Springs Boat Tour shows history's wake