Like treasure hunts? Then a walk on Park Avenue in Winter Park is your kind of adventure.
For starters, stepping into the Spice and Tea Exchange is an aromatic treat. Try to find your favorite spice smell – there are many.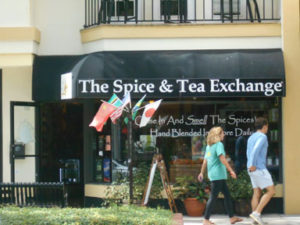 Across the street, a smiling sales person outside a Cottonways store hands me a $5 off coupon.
Should I go in? Well, maybe just a look. Coupon in hand I step inside and find stylish cutting edge clothes, especially tops, all made cotton gauze, all designed by Jennifer McNeill who lives in Oviedo.
When she graduated from college as an economics major, jobs beckoned, but instead, the sales lady tells me, Jennifer followed her passion to be a fashion designer – and now there are five Cottoenways stores with her designs sold in 750 shops.
It didn't take long to find a bias cut blouse and use the coupon. Walking along with my purchase in a brown paper bag I see an archway leading to a courtyard.
Winter Park walking – be sure to explore the courtyards too
Who can resist? I step into the courtyard and end up going to the Ancient Olive Gourmet shop where they have complimentary olive oil tastings every day.
This weekday it is too late for breakfast and not yet lunchtime but I'll be back to visit the Briarpatch Restaurant & Ice Cream Parlor, an oasis since the 1960s. The word is that their breakfast is the best. And put their Sunday brunch on your to do list. That advice came from a local, so it is the real deal.
Every block contains new finds. In a rather nondescript building on Park Avenue is the Charles Hosmer Morse Museum of American Art.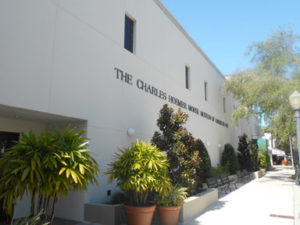 Step inside, pay admission then discover a deep collection of late 19th century and early 20th century American paintings and decorative arts. And, right here in this building, is the world's most comprehensive collection of work by Louis Comfort Tiffany (1848-1933).
Personally the Tiffany crown jewel for me, and the treasure hunt find of the day is his chapel interior from the 1893 World's Columbian Exposition in Chicago.
Like all savvy art museums you have to exit through the museum store. Just saying . . .
Across the street from Park Avenue runs a linear green space, a park that parallels the train tracks. The Winter Park train station at Morse Boulevard and Park Avenue has information for SunRail, Central Florida's commuter rail line.
Winter Park on Saturdays – see you at the Farmers' Market
On Saturdays, there are legions of regulars who will tell you that going to the Winter Park Farmers' Market on New England Avenue from 7 a.m. to 1 p.m. is where the real treasure hunt takes place.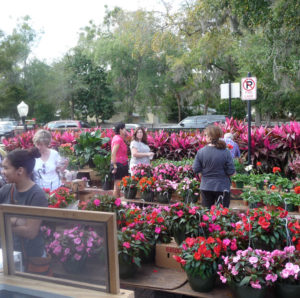 Rightly known as a premier produce and plant market, five of us came to the Farmers' Market on a Saturday and we found plant treasures, many plant treasures.
Please note: The Winter Park Farmers' Market is closed each year on the third Saturday in March due to the Winter Park Sidewalk Art Festival.
Our big SUV ended up with the cargo area filled with plants. Each one of us held several more plants in our laps. This could happen to you too! You have been warned.
And then there is the Mead Botanical Garden to visit plus taking the Scenic Boat Tour on Winter Park chain of lakes.
So many treasures, so little time. Going back to Winter Park soon is a good plan.
What's new?
Book signing – Saturday, Dec. 2, 2017, from 10 a.m. to 1 p.m. – three local authors including Lucy Tobias will be at Parkers Book Store, 1488 Main Street, Sarasota, FL. This is a good day to buy my children's book "Mary Margaret Manatee" or treat someone special to a book full of adventures – my best-selling book "50 Great Walks in Florida."
And hugs are free. See you!
More to Explore
Backstage Tours of Sarasota Opera House
Florida State Parks are Calling Your Name
Art and Food go Together in Puerto Vallarta