Let's go to Hollywood. No, not that one in California, instead grab your flip-flops and let's go to Hollywood, Florida.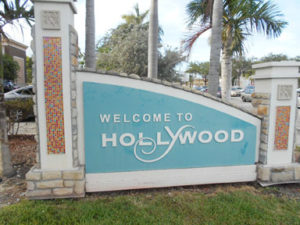 The city of Hollywood sits on the Atlantic Ocean. It is conveniently located north of Miami and south of Fort Lauderdale. Hollywood features a famous beach promenade, cool culture, a sidewalk labyrinth and a delightful historic district.
You didn't know all this? Neither did I until recently.
The Hollywood Boardwalk is a wide brick promenade going for 2.5 miles along the beachfront. A bike path is part of the pedestrian path. So stroll, skate, run, put it in gear and go.
There's plenty of pizazz along the way – restaurants, gift shops, beach shops (forget your boogie board? Shades? They've got you covered), souvenirs of the Florida kitsch kind.
Almost every block along the Boardwalk has a shower station to wash off the sand between your toes.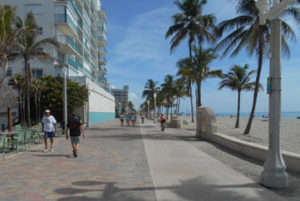 A band concert could accompany your stroll along the Boardwalk – lots of live music here.
Got kids? Visit Charlow Park on the Boardwalk. It even has a water fountain to splash in plus playground equipment and covered picnic areas.
Bring your own beach chairs, heck, even bring a tent and plan to stay on the beach for the day.
But first – the issue of parking, and it requires some thought. Parking on beachfront streets is pay by meter. Write down you license number. You will need it when keying the meter. They take cash or credit cards. There are also parking lots charging by the hour or day. Bottom line: no free parking at the beachfront.
Head for Historic downtown Hollywood, Florida
Shake the sand off your toes and head up Hollywood Boulevard. Your destination is historic downtown Hollywood, a sweet spot of several blocks where parking on the street is free for three hours at a time. They really want you here.
Wide sidewalks, restaurants that put their menus out on sidewalk display so you can visually sample the types of entrees and prices ahead of time, large old trees shading old brick buildings. This is a fine place to meander.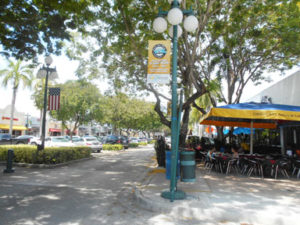 Stopping at the Chocolada bakery and café, I sat under a huge awning on the sidewalk. Fans kept everyone cool. Breakfast, lunch and dinner served all the time along with live music from time to time. Hard to resist the famous bakery offerings inside, cakes and desserts – like a penguin (sponge cake dressed in black and white frosting, yes, looks like a penguin).
Next to the bakery on one side sits a Greek restaurant. On the other side there is an Irish pub. You get the picture – lots of restaurant choices.
Walk a labyrinth on Hollywood Blvd., Hollywood, Florida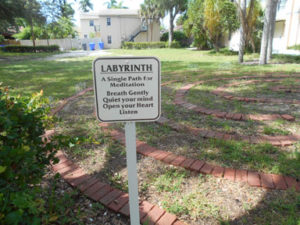 Also on Hollywood Blvd. at First Presbyterian Church 1530 Hollywood Blvd., is a small labyrinth* right next to the sidewalk. A labyrinth is not a maze. A labyrinth has one way in, one way out, no dead ends. The purpose of a maze is to find the center. The purpose of a labyrinth is to find the center of your heart. So here you are, in Hollywood, with a public, outdoors labyrinth waiting for your discovery. Go for it!
Young Circle in Hollywood, Florida has cool culture
For cool culture, head to the ArtsPark at Young Circle, a 10-acre circle roundabout and the heart of Hollywood's downtown redevelopment.
Billed as a place were art, people and music meet, be sure to check out the ArtsPark Web site (above) for what's playing and what art classes are going on –drop in to the Visual Arts Pavilion, see the gallery, or view glass blowing, even a martial arts class! Take in a concert at the outdoor amphitheater that seats 2,500 people.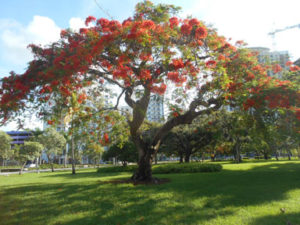 And children want to visit the innovative playground. All this is happening in a roundabout!
The city of Hollywood resembles a multiplex theater – take your pic, all the city's features get four stars.
You are invited to LIKE my Facebook page Labyrinth of the Week
UPCOMING
Saturday, August 19, 2017 from 10 a.m. to 3 p.m. Venice Arts and Crafts Show, Venice Community Center, 326 S. Nokomis Avenue. Come visit a bevy of local authors, including Lucy Tobias, with books ranging from memoirs to mysteries, historical fiction to romance and travel, children's books and more. Can you say "EARLY CHRISTMAS SHOPPING"
More to Explore
Key Largo has Conch Fritters Calling Your Name
Sunken Gardens Grow Lush and Exotic
Flutter with the Butterflies in Fort Myers