The rain came down in buckets. Lightening crashed nearby. Thunder boomed. My dogs and cats suddenly decided they ALL needed to be on the bed with me. We huddled together.
Outside the house my three rain barrels – two in the back yard, one in the front yard- went to work. The barrels are placed up on blocks just under the roof (they can also be placed under a gutter spout but I don't have any). Rain runs down the slanted roof and into the barrels.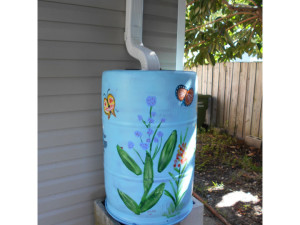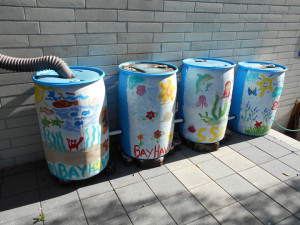 Mother Nature gets wet and gets recycled. Water is stored for the lean times. This so works for me. Rain barrels can work for you too.
Rain Barrel conserves water for lean times
Sure, you can go on line and see beautiful rain barrels that cost two arms and one leg (that is before shipping) or you can look closer to home and do it cheaper. How cheap? Mine are $55 apiece from my local IFAS Extension Office. They come with holes predrilled for a faucet and an overflow valve. You also receive a bag of parts.
Also check out "Barrels and drums" in the Yellow Pages. Be sure to ONLY get a barrel that carried food products. Make your own with the instructions you get free on line (see resources below). Or take a rain barrel class. Maybe the Florida Yards and Neighborhoods is giving a class soon near you.
The 50 to 60 gallon barrels themselves are recycled. Mine started out life as a container full of olives shipped to the US from Europe. It is a one-way trip. The olives get packaged in jars. The barrels are sold to barrel companies; they are then bought by extension services, garden clubs and individuals and get a new life as rain barrels.
Some tips for installation and maintenance:
Unless you are only going to attach a hose to your rain barrel, you need to elevate it enough, on blocks, to get a bucket or watering can under the faucet.
Put a tablespoon of cooking oil, any kind, on the water surface. This breaks the water surface tension and mosquitoes can't breed.
I added a piece of PVC pipe to the overflow valve and the pipe goes directly into a watering can, so I catch the overflow.
It is great fun to gather family and friends and paint a rain barrel. Put a base coat on first; use your house color or any outdoor paint. Use acrylics to do the designs. Top with polyurethane.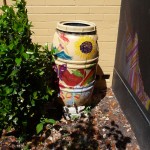 How about making a rain barrel your Earth Day 2009 project? Sounds like a plan.
Here are some resources to get you started:
The "why" of rain barrels:
http://www.gardeningsolutions.ifas.ufl.edu/water/articles/rain_barrels.shtml
The "how" of making a rain barrel:
How to Make a Rain Barrel–Hillsborough County Extension Service (PDF)
The "Zen" of rain barrels, cool examples of painted barrels
http://manatee.ifas.ufl.edu/lawn_and_garden/fyn/rain-barrel.shtml
The "where" of rain barrels, some commercial sources:
www.rainbarrelsource.com
www.homedepot.com
Have you heard of "saving for a rainy day"?. Now you can save rain for a sunny day too.
©2009 Lucy Beebe Tobias, author of "50 Great Walks in Florida", 2008, University Press of Florida
MORE TO EXPLORE
Key Largo has conch fritters calling your name
DeLand lives up to its founder's dream