Coming to this conservatory is a game changer. No doubt about it. What happens here with butterflies is both intense and beautiful.
The Florida Native Butterfly Society Conservatory in Fort Myers opened in 2009. Unlike most facilities, it is allowed to breed butterflies. Therefore visitors can witness the entire process of metamorphosis.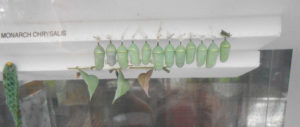 In the foyer are glass enclosures with different butterfly chrysalis. You are offered a guide sheet with photos and names of Florida butterflies you will find inside. I decline thinking I know butterflies from all the work on my gardening book and my back garden efforts.
That attitude lasts about two seconds until I step through the screen doors and promptly see two butterflies I could not name. Coming back to the foyer I beg forgiveness and ask for a cheat sheet.
Inside the glass warehouse-sized conservatory there are two rules: do not touch the butterflies and stay on the path. Winding past pools and waterfalls, it is quickly apparent that there are layers of habitat here – way past the usual red Penta for food and milkweed for the monarchs to lay their eggs.
Butterflies have a full life cycle here
This is an educational facility – specifically to introduce visitors to what makes up a healthy habitat for butterflies – it would include many hiding places, nectar sources and protected areas to rest.
These are fragile creatures. They need our help – a perfect reason to start or enhance a butterfly garden.
The day's big event (it happens every day they are open) is a butterfly release at 10:30 a.m. On the day of my visit the conservatory is full of school children.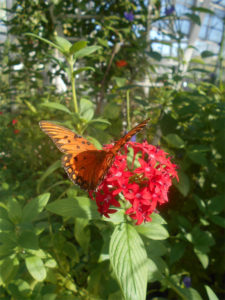 Out comes a staff member with a large mesh container. Newly- hatched butterflies were set free for their maiden flight. Amazing, No hesitation, Butterflies flutter away like they already had a destination in mind. The kids cheer.
The conservatory is part of a complex called Butterfly Estates on Fowler Avenue. Also on site are three small wooden buildings – a Gift Shop, a lunch restaurant called the Gathering Place and Z Crepes, a breakfast place.
Closed Mondays. Conservatory and gift shop hours are Tuesday through Sunday 10 a.m. to 3 p.m.
Butterflies and more at Butterfly Estates
Butterfly Estates is on Fowler Avenue but you do not enter there. Go past the Estates to the stoplight at Thompson Street. Turn left, then left again to enter the Estates parking lot.
Address: 1815 Fowler Street, Fort Myers, phone 239-690-2359.
Tickets for the conservatory are for sale inside the Gift Shop. Admission is $7 for ages 13 and up, $4 ages 3 to 12 and under the age of 3 admitted free. The Gift Shop has restrooms.
Note: Florida residents get $1 off with valid Florida ID. Age 50 and older get $1 off. University students pay $5 with valid ID and military receive free admission with valid ID.
Note also that the conservatory fee is tax deductible.
Butterfly friendly plants are for sale outside the conservatory. Come with friends and take selfies of everyone sitting in the big butterfly chair.
Hooked? I am.
Butterflies – lots of them at Butterfly World
In addition, here is another butterfly place I like: Butterfly World in Coconut Creek, open seven days a week. It is a breeding facility for butterflies, hundreds of them. When we stepped inside there was a show stopper with a crowd of admirers – an Atlas moth, huge with fake eyes on its wings making it look quite menacing, hopefully, to predators.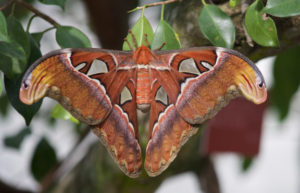 Of course they have a large demonstration butterfly garden area and plants for sale. It won't be long before you find yourself checking out the native plant nurseries in your area and digging holes in the ground for your new acquisitions.
In conclusion, it is time to go out into the back garden. I'll be looking to expand hiding places and protected areas to rest for butterflies. Are we having fun yet? Yes, we are.
GOOD TO KNOW
The Florida Fish and Wildlife Conservation Commission has a free list of butterflies in Florida. You order it online, they send it to you in the mail. Directions are a little complicated, but doable.  Go to their Web site
On the first page that comes up click on online ordering, when the next page comes up type in "butterflies" in the name section and it will come up.
UPCOMING
Join me along with other children's book authors, at the Children's Book Fair and Family Fun day on Saturday, April 29 from 9 a.m. to 2 p.m. at the Bradenton Farmer's Market on Old Main Street, Bradenton
ORIGAMI CONTINUES
Origami in the Garden continues at Naples Botanical Garden through April 23. In addition to monumental sculptures scattered around the garden, the guide map has a cool feature – the guide map can be made into your own Origami Flying Crane and there are directions on how to do just that. Be sure to get two maps, one to cut up and one to use for following the crane directions. See the garden Web site for admission prices and time. And yes, just so you know, they have a butterfly house.
MORE TO EXPLORE
Making Mosaics in Barcelona, Spain
Florida Lighthouses Welcome Visitors
Bed & Breakfasts in Florida Pamper Guests