This small Florida town calls itself a city. Pretentious? Heck, when you live at the end of the road and are a throwback to a slower time then you can be whatever you want to be.
The City of Cedar Key sits on a large spatter of an island, surrounded by more islands and kissed by the Gulf of Mexico. Get there by going west on State Road 24, a straight shot through the woods. Take the two-lane road to the very end and voila, you've arrived.
Cedar Key waits for you at the end of the road
Could Cedar Key be the funkiest Florida town/city ever? Yep. Could be.
Where else will you find one resident curmudgeon, the best clam chowder in the world and dogs in every block straining on their leashes?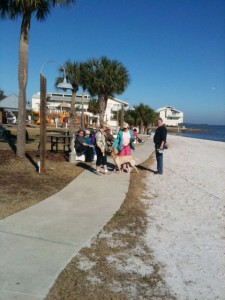 Plus Cedar Key has Second Street, just a few blocks long with more art galleries than parking places.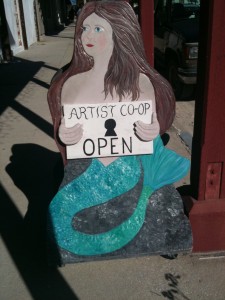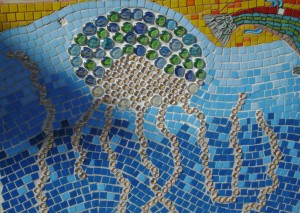 Dogs without leashes step across the street like they know the route, part of their daily routine.
Add on the Island Hotel & Restaurant, with rooms rumored to be haunted, some of them anyway, and a restaurant that serves great dinners. Listed on the National Register of Historic Places, this building anchors the corner of Second and B Street and has since 1859.
Cedar Key has one zip code and many art galleries

All this and more located in one zip code – 32625.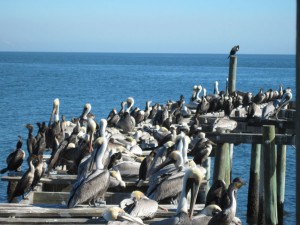 Cedar Key celebrates stunning sunsets over the Gulf of Mexico, has two fishing piers, hopeful fishermen, more birds than people, two history museums on an island with a census showing 927 people on a good day, great shelling, snorkeling and finally smiling locals who stop visitors like us to ask hopefully "Are you here to stay a few days?"
We began our visit to funky 32625 with food, standing outside in line waiting to get into Tony's Seafood.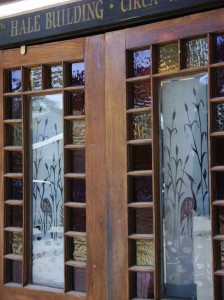 Their clam chowder has won "world's best" two years in a row. Tony's, on the corner of 2nd Street and D Street (SR 24), occupies the first floor of the Hale Building built around 1880.
Hale was a busy guy. In 1880 Henry Hale built a house at the west end of Sixth Street that looked out over a bayou called Goose Cove. In the 1920s St. Clair Whitman bought the house, raised a family and stayed until his death in 1959.
The house stood empty for a long time and we all know what that means. Scheduled for demolition in 1991 the Whitman family offered it for free to anyone who would move it.
Local citizens and elected officials formed a partnership with the Florida Park Service. The small red house with a metal roof was moved to the grounds of Cedar Key Museum State Park.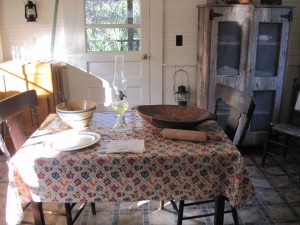 A restoration, completed in 2002, polished the floors, expanded the house, put in furniture from the 1920's and 1930's and displayed some of Whitman's extensive collections, especially shells.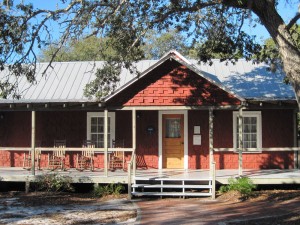 You can do a self-guided tour of the home as part of your $2 park visit admission fee. The park also has a sweet museum with displays of Cedar Key's history timeline. With all the marshes and tidal flats it comes as no surprise that the Timucuan Indians liked this place a lot. Artifacts put them here as early as 1500.
Funky Florida – Cedar Key – eat, shop, soak up history
Back to the food. We waited. Unlike the Timucuans who scooped their seafood out of the water, we wanted ours already harvested and cooked by someone else. After soaking up some sunrays we were ushered inside Tony's.
Two thumbs up. The clam chowder is seriously wonderful and well worth the wait. Plus I had steamed clams on the side and they were pretty amazing too.
Aquaculture is big here. The demise of mullet fishing (gill nets were banned in 1995) led to retraining fishermen for growing clams in beds in the Gulf of Mexico. In 1997 clam farming produced 100 million clams.
If you like seafood, keep the record numbers going by coming here to eat your share. One opportunity – attend the annual Clamerica Clelebration on the Fourth of July, named a Top 20 Event by the Southeast Tourism Society.
Tony's sits on a busy intersection.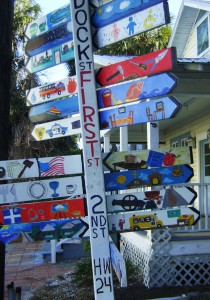 Across the street is Curmudgeonalia with books (a good Florida selection), cards and gifts. The owner is a resident curmudgeon Dick Martens (I am not making this up). This is the only bookstore within 60 miles.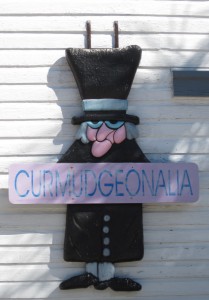 On the opposite corner is the Cedar Key Historical Museum housed in the Lutterlogh Building also built around 1880. Cedar Key recycles its buildings and treasures its history.
Just inside the museum door look left to see the arched doorway that once led to the Maddox Theater. The theater is gone but they saved the doors.
A self-guided walking tour has a new color booklet you can purchase with photos and descriptions. The price will be about $10 but the tour guides hadn't arrived when we were there and the price was still iffy.
By the time we finished lunch and moved next door to plunder a truly eclectic consignment shop called Déjà Vu, we all agreed a day trip to Cedar Key was not enough. The locals are right – stay a few days.
Stay a few days in Cedar Key

Cedar Key is a small place. The pace is slow and yet you can't drink it all up in four to five hours. Why would you want to? The laid back atmosphere aches for slowing down, for quality time with friends and family, for long conversations and good browsing through the art galleries, then sitting at the beach or renting a kayak and exploring the islands.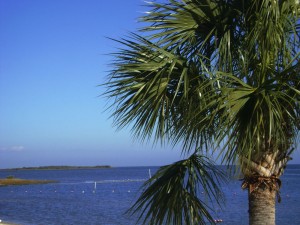 Consider this – if you are going to stay for the sunset show, why not spend the night? Beats the long drive back in the dark on SR 24.
Suggested excursion: a sunset cruise with Captain Doug's Tidewater Tours, the cost is $25 per person.
The closest island is Atsena Otie Key and it is here that Cedar Key began as an army supply depot, 1836, and hospital, 1840. It is easy to see Atsena Otie Key from the new pier and dream of taking a day cruise over there to seek out the historical remains.
As we walked around we saw lots of rentals for condos, cottages, B&Bs, homes, hotels, apartments and rooms.
If it is view you want Harbour Master Suites on Dock Street all face west towards the Gulf of Mexico and that means splendid gulf views.
The Faraway Inn, a certified Green Lodging Florida, is pet friendly and sits on the site of the 19th Century Eagle Pencil Company Cedar Mill. We saw happy dogs outside when we went by.
There are 10 rooms at the Island Hotel. In keeping with historical ambiance there are no televisions or phones in the rooms of the main hotel.
Remember cedar pencils? They were made here in Cedar Key

The museums tell the story of all those pencil factories but not a whole lot of cedars to be seen today. They were chopped down before conservation policies. Backack in the 1800's cedars were a hot item. In 1855 Eberhard Faber set off a timber boom when he bought large tracts of acreage in Levy County and started a pencil factory. You can buy a pencil smelling strongly of cedar at the Cedar Key Historical Museum.
Combine all the timber activity with Dave Yulee's building of a cross-Florida railroad from Fernandina Beach to Cedar Key and it is easy to imagine Cedar Key as a booming port town. The population peaked at 1,887 in 1885.
Now that might not sound like much to someone from Chicago or Miami but Levy County in 1885 only had 5,000 people.
Cedar Key once called the Venice of America

A newspaper clipping from the time called Cedar Key "the Venice of America". Well, why not? When you are living the end of the line, literally, go for it.
Is the Venice of America a city or a town? It doesn't matter. Cedar Key is a great place. We're going back soon and stay a few days.
Speaking of small towns, Cedar Key is one of 20 American towns selected by Budget Travel Magazine as America's coolest small towns. Until February 11 you can vote for Cedar Key by going to their Web site and casting a vote.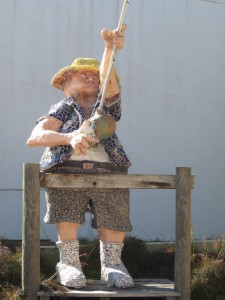 Upcoming events:
Sat. Feb. 19 at 1 p.m. – Historical Society Auction to be held at the Island Hotel. Lively bidding on collectibles including china, art work, antiques and more.
Monday, Feb. 28 at 10:30 a.m. join Refuge Ranger at Cedar Key Library for a program on bats and bat houses. Did you know there is a giant bat house on the Suwannee River that holds 40,000 bats? Learn how to make your own bat house for natural mosquito control.
March 16-20, Levy County Railroad Days (150th anniversary of the completion of the Florida Railroad), events in Bronson, Otter Creek, Cedar Key, see Web site for days and times.
According to George Sresovich with the Historical Society this is going to be a really huge event. From 9-4 p.m. on March 18,19 & 20 the Cedar Key Community Center will have the Ocala Model Railroaders' Historic Preservation Society Florida Railroad Display.
See the trains. Then go to Tony's for chowder or get a bowl of crab bisque at the Island Hotel. Want more? You have lots of seafood choices at restaurants lining Dock Street, all with those famous Gulf views.
April 2-3, Cedar Key Arts Center presents the 47th Annual Old Florida Celebration of the Arts. Yes, it is true. Cedar Key is a very small town with limited parking. For festivals, people park their cars on outlying keys and shuttle buses bring them into town.
For an event calendar with contact information see the Cedar Key Chamber's Web site.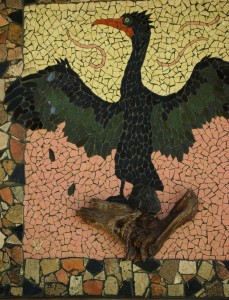 ©2011 Lucy Beebe Tobias
Note: This Saturday Morning Magazine story is part of an occasional series on funky small towns in Florida. Want to share the adventures? Ask your friends to subscribe to the free Saturday Morning Magazine, it is easy to sign up on my Web site, http://www.Lucytobias.com, so they can get all the great stories about undiscovered Florida and beyond.
More to Explore
Florida art museums are cool, let's visit
Winter Park puts a smile in your step
Art and food go together in Puerto Vallarta