St. Petersburg, Florida has 360 days a year of sunshine AND cars stop to let you go across the crosswalk. What's not to like?
My friend Barbara Trow, a recent transplant to St. Petersburg, laughs as she reels off those reasons.
Today the sun is shining as advertized.
Barbara is my guide and we are on a mission: discover downtown St. Petersburg.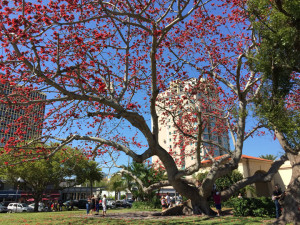 It is a toss up between starting with the Dali Museum and the Chihuly Collection but I've been to the Dali with its wonderful collection. The futuristic building is so in keeping with the eyebrow raising, unpredictable artist himself that the building itself has become a destination.
Chihuly, on the other hand, is new to me so off we go.
But first – a few words about parking plus getting around and coupons.
Downtown St. Petersburg – Parking Essentials
Downtown meters are set for $1 an hour with a limit of two hours. You don't want to have to quit having fun to go feed the meter. For the mobile enabled there is an app to pay the meter online without ever using a real quarter. Download ParkMobile app to your smartphone. Still two hours passes fast and the meter runs out.
Consider parking on the pier at either of two parking lots – Pelican Parking Lot and Beach Drive Parking Lot. The cost is $3 a day, cash or credit card, but you are good to go for a much longer time. That counts.
It is a bit further (almost two blocks) to walk downtown if you are starting from the Pier.
A big plus – the St. Petersburg Downtown Trolley Looper stops on the Pier. Fare is .50 cents per person.
Note: there is a free fare zone from the Beach Drive parking lot on the Pier to stops along Beach Drive and Sundial/Muvico.
Do pick up the free downtown St. Petersburg Guide & Map, loaded with information and coupons. Barbara has already cut out the one for $2 off to the combination Chihuly Collection and Hot Shop ticket.
Map Out Your Time in Downtown St. Petersburg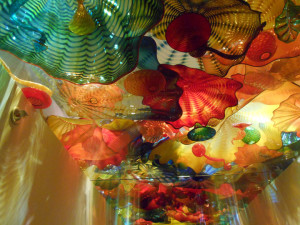 I recommend the combo – first wander through the Chihuly Collection (how do they make such other worldly, delicate and amazing glass sculptures?) then later in the day, say after lunch, visit the Glass Studio and Hot Shop (they have demonstrations on the hour) to watch glass being blown in freeform shapes. It is a huge "wow", one of those "you have to show up and experience it a photo won't do" moments.
Both the collection and the glass studio are presented by the Morean Arts Center that also has a Center for Clay – I'd like to come back for clay. Friday nights they offer hands on fun in clay.
We meandered along the waterfront and wandered into the Savory Spice Shop on Beach Dive. It lives up to its name. Wonderful aromas. So many spices. So many choices. They come with taster bottles – so we're sampling and of course, buying.
Did you know the store does food demonstrations? We sign up on the local mailing list. Food plus spices plus taste testing. Savory reasons to return.
In 2014 Michael Mina and Don Pintabona opened Locale Market a two-story store on Second Avenue North, part of the Sundial Center.
Wander the aisles and be inspired, we certainly were – seafood, meat, ready made for lunch or dinner, a huge salad bar, bakery goods, cupcakes too beautiful to be real, gourmet coffee, and wines. Join them for dinner at a large common dinner table or get food to go. And don't go far – there are tables on a second-floor porch.
Opting to resist we continue on to Red Mesa Cantina on Third Street South, sitting outside under umbrellas while fountains gurgle and sparrows visit a succulent garden. Everything is delicious – this is a popular lunch and dinner spot. Only here a few months, Barbara is already a regular at Red Mesa Cantina.
Full of lunch we head for the Hot Shop to watch master glassblowers as they blow us away with their talent.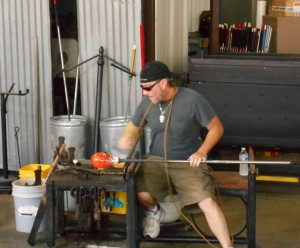 Now it is mid-afternoon. So many more things to do in downtown St. Pete but it is time for me to go home. I'll be back.
Oh, and just so you know, the local newspaper is free if it rains. Read all about it at a newsboy sculpture in front of the St. Petersburg Museum of History on The Pier.
MORE TO EXPLORE
Venice is a Vision Worth Visiting