Florida shorelines are underwater jungles teaming with young fish and marine live finding food and shelter in mangrove roots and sea grasses. Their predators come and go with the tides. It is a world of eat and be eaten, just like the jungle.
This wet world is waiting to be discovered. You don't need scuba diving certification to get there.
Wading shoes will do just fine. *
The really good news is that there are knowledgeable guides who love showing this shoreline world to "newbies" like you and me.
Take the program F.I.S.H. for example.
Discover Sea Grass in Submerged habitats
The letters stand for Folks Interested In Submerged Habitats. Who can resist an acronym like that? I couldn't and signed up for a free Saturday morning F.I.S.H. wade in the mud of Lemon Bay Aquatic Preserve, 1.7 miles of shoreline at Lemon Bay Park and Environmental Center in Englewood (south of Sarasota).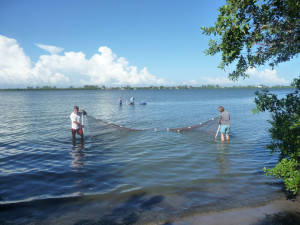 With a blue sky and an outgoing tide, we unfolded a long net. One person took each end then walked slowly along the mangrove edge.
While we dragged the shoreline, eagles that live at Lemon Bay were diving into the water and coming up with fish. Sometimes manatees and dolphins are seen here too.
Every drag is different. Every trip is an adventure – what plants and animals will be found today?
There is no right or wrong, just seeing what is out there that day at that time.
"The holy grail is finding a sea horse or puffer fish," said Chuck Idelberger. "They are real crowd pleasers."
On this morning we bring the net ashore. Small silvery things flop on the mud and are quickly put into a bucket – baby snook, tiny pipefish, grass shrimp also called possum shrimp as it has a pouch full of eggs.
Plants go in another bucket. Parks Naturalists Kenya Leonard holds up a blade of turtle grass.
"A blade of turtle grass is its own ecosystem, "she said. "There is a whole lot of vegetation feeding on it.
The shoreline mangroves and sea grasses have small crabs and small fish that not only hide out here but also feed on the detritus, the decaying matter from mangroves and grasses.
When all the catch has been talked about, back it goes into the bay to live another day.
Trawl the Sea Grass to find Sea Life
Lemon Bay Park and Environmental Center is located at 570 Bay Park Blvd., Englewood. F.I.S.H. walks take place monthly along with other environmental activities. To know more call Sarasota Parks and Recreation at (941) 861-5000 or email: [email protected]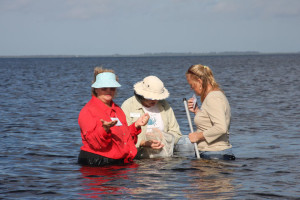 At the Charlotte Harbor Environmental Center, Inc. in Punta Gorda there are wading sea grass adventures that are free and open to the public. In addition there are area estuary pontoon boat journeys that sometimes collect samples of sea life for viewing. See their schedule for times or call the Alligator Creek Location for CHEC at 10941 Burnt Shore Road, Punta Gorda, (941) 575-5435.
*  Suggestions for taking a wading tour: Wear a hat, put on sunscreen, sunglasses are good, short pants so as not to get too wet. DO NOT do what I did and wear Crocs, the mud just sucked them off my feet. Real wading shoes are needed.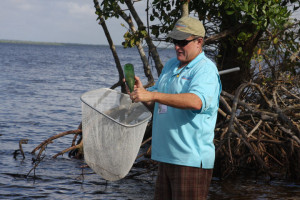 UPCOMING
I will be here as an illustrator – making cards based on my book Mary Margaret Manatee and yes, I'll have books for sale too. This is going to be fun!
3rd Annual Sarasota Book Fair
Saturday, October 25, 2014
10am—3pm
Come out and support your local independent authors! Writers from the Florida Writers Association, Peace River Writers, Authors Connection, Gulf Coast Writers and the ABC Books 4 Children & Adults writing groups will be attending.Books for all ages and genres will be for sale.
Entrance is free. Writers and illustrators are waiting to meet you and talk about their craft.
Special demonstrations by illustrators and artists. Organized with the help of ABCBook4Children, Inc.
707 N. Tamiami Trail, Sarasota, FL 34236
941-365-2032
More to Explore
Go for a Good Time in Punta Gorda
Fall and Fishing in Florida are Big Lures