Florida Lighthouses – When it comes to climbing St. Augustine Lighthouse, remember this number – 219.

It will become important to you.
Getting to the top of St. Augustine Lighthouse means going up, up, up, yes, you got it, 219 steps up the curving staircase in a tower that gets narrower as it ascends.
But the effort is worth it. St. Augustine Lighthouse, built in 1874, stands 165 feet above sea level and the view is incredible.
I'm glad I made this climb.
At the top the first order Fresnel lens is still an active automated beacon – now powered by a 1,000-watt bulb. In the old days lighthouse keepers carried kerosene up all those stairs to light the light. They did this every day.
A Fresnel lens is a thing of beauty, not easily made or maintained. The St. Augustine lens has 370-hand cut glass prisms in a beehive shape. The lens reflects light so well mariners can see the fixed light signal for 19 miles and the flashing light signal for 24 miles.
Back on the ground, a Maritime Museum at the lighthouse base (former home of the lighthouse keeper and greatly restored) has all kinds of changing exhibits including a new one about shipwrecks.
Of course, what is a museum without a gift shop? Incomplete. No worries, there is a gift shop here.
I confess I bought the bumper sticker. The one that says I climbed all those steps.
Admission to the St. Augustine Lighthouse & Maritime Museum includes tower access, the restored Keepers house, nature trails and maritime archaeology artifacts. Behind the scenes tours at 11 a.m., 12 p.m., 1 p.m., 2 p.m. and 3 p.m. are included in admission.
Normal hours are 9 a.m. to 6 p.m. with extended summer hours of 9 a.m. to 7 p.m.
Adults are $12.95, seniors (60 and up) $10.95 and children ages 12 and under and 44'' or taller, $10.95.
By the way, when it comes to children climbing the tower stairs with their adults, there are restrictions – children must be 44 inches tall and able to climb the stairs on their own.
See the Lighthouse Web site for additional educational tours like a Lighthouse paranormal tour: dark of the moon or a sunset/moonrise tour.
Florida Lighthouses are visual beacons and light beacons
Did you know Florida Lighthouses are both light beacons and also visual beacons? No two lighthouses are painted the same, so a mariner close to shore can easily see the black and white stripes on St. Augustine lighthouse, compare the colors to their charts and know where they are.
Further down the coast Ponce de Leon Inlet Lighthouse is painted a deep shade of terra cotta. This is the tallest lighthouse in Florida, standing 175 feet tall. Construction was finished in 1887.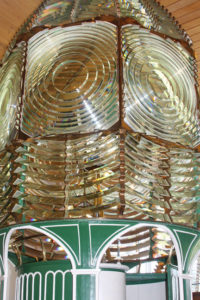 There are 203 steps to the top. I did this one too! And got the T-shirt. Did I mention that I really like lighthouses?
Their museum has, among other things, a lovely exhibit of Fresnel lenses. To me it was like walking through an art exhibit, quite exquisite.
The Ponce de Leon Inlet Lighthouse and Museums are open 365 days a year, opening at 10 a.m. in the morning but evening closing changes with the seasons, so plan ahead.
Admission is $6.95 for adults 12 and over, $1.95 for children 11 and under and free for children up to the age of two.
Foodie alert: Just across the inlet is the Hidden Treasures Rum Bar & Grill, with outdoor deck seating that looks across the inlet at the Lighthouse. If you walked the 203 steps, you deserve to come here afterwards! Great food, great view.
Lighthouse keepers are long gone. Beacons are automated. But lighthouse allure continues. These front porch lights onto our communities make for a great road trip plus you get some serious exercise climbing steps as a side bonus.
Florida, with 1350 miles of coastline, has just 30 Florida Lighthouses left. Many need restoring and that is the priority for the Florida Lighthouse Association.
A number of lighthouses are open to the public, often with restored lighthouse keeper homes.
Florida Lighthouses are a good road trip anytime
My suggestion: Consider purchasing a book or two: "The Florida Lighthouse Trail" by Thomas Taylor and Paul Bradley and/or "Florida Lighthouses" by Kevin McCarthy, both on Amazon.
Also check individual lighthouse Web sites for hours, admission and all the trip essentials.
If you like your lighthouses closer to the ground, much closer, then visit Port Boca Grande Lighthouse built in 1890. It is just two stories tall, and the short steps to the light at the top are closed off. Walk up a short flight of stairs into what used to be the lighthouse keeper's home and is now a small maritime museum.
The Lighthouse, on the southern tip of Gasparilla Island, marks the Boca Grande Pass entrance to Charlotte Harbor. It is inside Gasparilla Island State Park.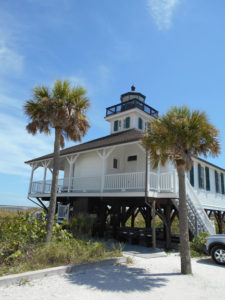 If you are visiting for the first time, as I did this past week, be prepared to be confused. Directions say to go all the way to the end of the road but there are signs along the way saying "welcome to Natural Florida" and "Parking for Gasparilla Island State Park" – you think you are there but you are not. Ignore all the signs, just keep going until finally, at long last, the dirt road dead ends.
Oh, and just to confuse things, along the way you will pass a tall structure that has a mini-lighthouse look – this is what is called a "rear range light" and was installed in 1927. Keep on going . . .
Nice beaches all around. Parking in the state park costs $3 plus getting over the causeway to Gasparilla Island costs $6. There is no entry fee to the museum.
Visitor alert: The lighthouse is closed the month of August for annual maintenance.
And, gentle readers, saving the surprise of the day for last, today August 6 is National Lighthouse Day!
More to Explore
Go Greek for a day or two in Tarpon Springs
Don Pedro Island and more beaches calling your name
Old Cedar Key walking tour and more adventures